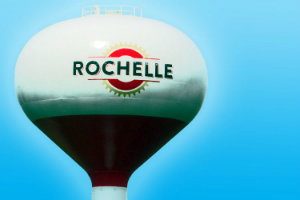 In the small town of Rochelle, about 80 miles west of Chicago at the intersection of Interstates 88 and 39, business is booming. The Greater Rochelle Economic Development Corporation has attracted companies like Nippon Sharyo, Boise Cascade, Tyson Foods, and Hormel.

This rural community consists of about 9,000 people, and its economy is bolstered by frozen French fries, bacon, ethanol, fabricated steel, hydroponic tomatoes, and the production of passenger cars for METRA. Each year, about 16,000 freight cars pass through Rochelle, picking up and delivering grain and other goods. Rochelle will soon gain another local gross domestic product from a boutique whiskey that is distilled in a former downtown theater.

Rochelle is also home to a 1,200 acre intermodal rail park operated by Union Pacific. This park is used as a shipping point to send goods to the Pacific Rim.

The growth doesn't stop there. The future for Rochelle as an industrial star in Illinois and the Midwest looks bright. Rochelle is working to bring a $1.6 billion auto assembly plant from Toyota Motor Corp. and Mazda Motor Corp., which could employ 4,000 people, to the town. Bidders from more than a dozen states are looking at the same prize, but Rochelle is already prepared. The town has 1,000 acres of corn and soybeans set aside for the new plant.

Rochelle is proving the common melody played by political and business elites wrong. Illinois is not a diminishing state, but instead outshining surrounding states in certain areas thanks to cities like Rochelle.
According to Crain's, data from the Bureau of Labor and Statistics show the number of businesses that are now based in Illinois has increased 28 percent since 2001. Meanwhile, the states that surround Illinois have grown much more slowly. Wisconsin has only increased the number of businesses that call it home by 17 percent, while Indiana has increased 8 percent and Ohio has increased by 4 percent. In Michigan, 9 percent fewer businesses are based in the state than in 2001.

While most of the growth in Illinois is from small businesses, Illinois has done significantly better than neighboring states in retaining large businesses as well.

This data portrays Illinois as a business creation superstar compared to our neighbors.

Although Rochelle's immediate focus is on the Toyota and Mazda assembly plant, other projects have already started construction, like a 14-story frozen food warehouse.