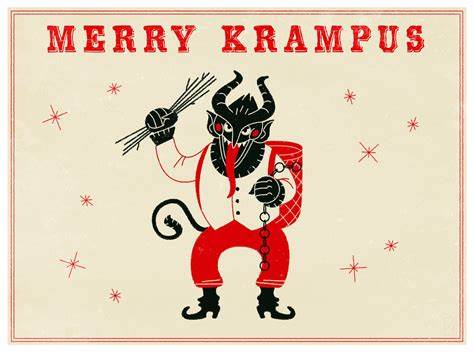 The legend of Krampus is a centuries old Austrian tradition that emerged as a dark counter part to St. Nicholas. Instead of a jolly old man bringing gifts for children, Krampus is a goat-derived being with red eyes and fangs that frightens naughty children as punishment for their behavior. Krampus night – or Krampusnacht – is celebrated annually on Dec. 5 previewing the St. Nicholas Feast on Dec. 6.
Krampusnacht is widely celebrated in Austria, Germany and other parts of Europe. Modern traditions include street festivals, known as Krampus runs, with people dressed as Krampus chasing festival goers, predominantly children. Individuals in regions across Europe maintain traditional customs by sporting heavy costumes made from real animal hide and wooden hand-carved masks. Folklore states that Krampus, aside from providing children an incentive to behave, would ward off bad winter spirits.
In recent years, Krampus has gained massive popularity in the U.S. and regions across the country have begun adopting their own Krampus related celebrations, including Illinois.
Here are a few events to check out this week to celebrate:
Crystal Lake Public Library- DIY Krampus Ornament
Crystal Lake Public Library is offering children 6th to 8th grade the opportunity to create their own Krampus holiday ornament on Wednesday, Dec. 6.
For more information, visit the library's website.
Chicago's 13th Floor Haunted House- Krampus the Fright before Christmas
Chicago's 13th Floor Haunted House has transformed its infamous space into a Christmas horror fest. For one weekend only, visit the haunted house to see holiday fears come to life. The special event will run from Friday, Dec. 8 to Sunday Dec. 10.
For more event and ticket information, visit the 13th Floor website.
Blue Island- Krampus Market
Blue Island will be hosting its annual Krampus Market from 12 to 6 p.m. on Sunday, Dec. 10. Be sure to check out dozens of local artist and small business vendors at the event along with mystical tarot readers and Krampus himself.
For more information, visit their event page.
Happy Krampusnacht!