Published: Thursday, December 03, 2020 12:49 PM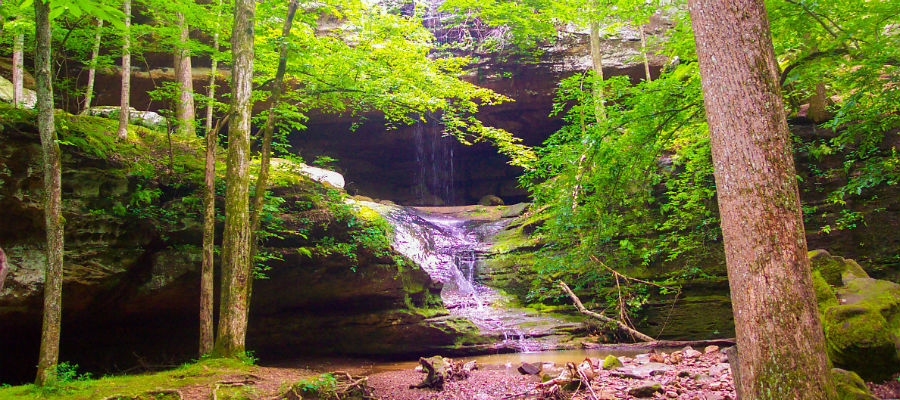 Southern Illinois boasts dozens of unique state parks and recreational areas, including the scenic Ferne Clyffe State Park, which covers 2,430 acres in the heart of the Shawnee Hills.
Impressive rock formations can be seen from almost all of the park trails, but two of the best-known sights are Hawks' Cave, a 150-foot-long shelter bluff, and a 100-foot-tall intermittent waterfall on the Big Rocky Hollow Trail.
In 1899, part of the land that now makes up the state park was purchased by two Cairo brothers who named it Ferne Clyffe because of the abundance of ferns that grew there. It soon passed hands to a local school teacher, Emma Rebman, who opened the park to the public for a ten-cent admission fee. In 1929, Rebman offered to sell the park to the State of Illinois. Efforts by local groups such as the Greater Egypt Association and the Illinois Redevelopment Board resulted in the state's purchase of Rebman's 140 acres in 1949.
There are over 700 known species of plant in Ferne Clyffe, making it a colorful spectacle in the spring and fall. The park has 18 diverse trails for hiking, along with various campgrounds for every type of camper, including a Class C equestrian campground. The 16-acre Ferne Clyffe Lake is available for fishing, and much of the forested areas are available for hunting.
More information on what Ferne Clyffe State Park has to offer can be found on the Illinois Department of Natural Resources website.