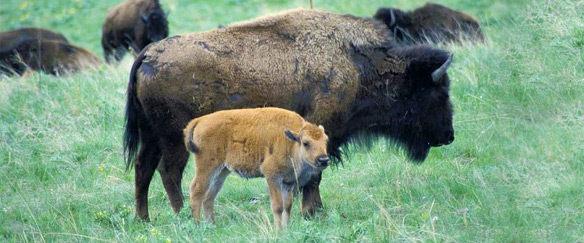 It's been a long time since the buffalo roamed the plains of Illinois, but soon a small new herd could graze the fields south of Chicago now that an experimental project has been approved.

The Midewin National Tallgrass Prairie, a 19,000-acre prairie maintained by the National Forest Service, has received final approval to conduct an experiment that would allow about two dozen bison of mixed ages to graze the restored land.
The 1,200-acre parcel of land targeted for the study is restored grassland that was once home to an ammunition factory. It could eventually support a population of about 100 bison. The U.S. Census recorded 688 bison in Illinois, all in captivity. Bison brought in by conservationists to another Illinois grassland in October were the first wild bison to have lived in Illinois since the 1830s.

Midewin is the United States' first national tallgrass prairie. Establishing in 1996, it is currently undergoing restoration efforts. A bison population is important to restoration efforts, since the creatures graze in a way that better and more naturally maintains the ecosystem than cattle could.

Read more about the project at the Minneapolis Star-Tribune, and about other wild bison in Illinois at the Chicago Tribune.