Published: Monday, June 05, 2017 03:12 PM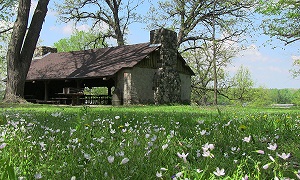 As summer begins, there is no better time to enjoy Illinois' parks and the many activities that are available in warmer months. With its well-maintained infrastructure, shady trees and miles of trails, Illini State Park is a classic Illinois summer destination. According to the Illinois Department of Natural Resources' website, "Illini State Park is the type of park you think of when you think of big picnics and family gatherings."
Located along the Illinois River in Marseilles, Illini State Park is an ideal Northwestern Illinois location for enjoying the spring and summer weather. In the 1930s, the Civilian Conservation Corps renovated portions of the nearby Marstawa Country Club, adding them to the park. This means that there is significant, solid infrastructure in place for outdoor activities including camping, picnics and youth events.
Other recreational spaces include a baseball diamond and numerous horseshoe pits. During the warmer months, a concession stand serving food, drinks and ice cream opens in the park.
Illini State Park is home to hickory, ash, walnut, elm, cottonwood, oak and maple trees. During spring and summer, visitors can spot blooming wildflowers, white-tailed deer, squirrels, opossums, beavers, raccoon, groundhogs, waterfowl and songbirds.
The river has an ample supply of crappie, bass, bluegill, catfish, carp and many other species. A boat ramp is available, but boaters should be aware that the park is close to the Marseilles Lock and Dam and that barge traffic can be heavy.
There is something for everyone at Illini State Park. The opportunities for good times grow as summer comes to Illinois. Plan your trip to Illini State Park today!