Published: Wednesday, April 25, 2018 09:29 AM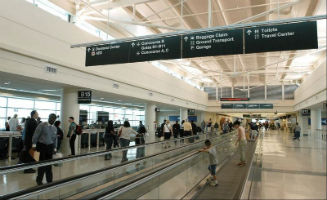 O'Hare and Midway international airports will now provide free unlimited wireless internet for the first time to all travelers.
The Chicago Department of Aviation (CDA) announced this week that the state's two major airports will offer free Wi-Fi service with streaming capability, replacing time-based free Wi-Fi sessions at all locations in the airports.
CDA Commissioner Ginger S. Evans said in a statement the new service is being offered to enhance the passenger experience and to highlight efforts to modernize the Chicago airports.
CDA officials also say they are working on two more modernization programs concerning technology and security to prepare the airports for future growth.
Previously, the airports offered 30 minutes of free Wi-Fi to all customers. With the new service, provided by Boingo Wireless, passengers will have access to unlimited free Wi-Fi with rolling advertisements every 45 minutes. Users can also opt for faster speeds by purchasing a one-day or monthly subscription.
O'Hare and Midway airports serve more than 100 million passengers each year and generate $45 billion for the area's economy annually.