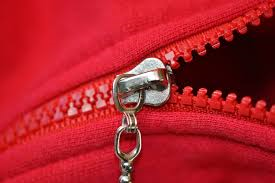 Did you know? The zipper was invented in Chicago by Talon Zipper, founded in 1893.
Before creating the zipper, Talon Zipper was best known for producing a hook-less fastener for shoes and boots. They observed a need in the fashion world for an easier method of fastening clothes than the dozens of buttons on fashionable high-button boots, and the zipper was born.
In the 1920s, the zipper was launched and requested at such a high demand that they began mass production. In the 1960s, it was estimated that seven out of every ten zippers were made by Talon Zipper. That number later declined when a competitor company, YKK, was able to create zippers at a cheaper and faster rate. In 1981, Talon Zipper was bought out by Nucor Holdings who purchased it for 66 million.
In 1996 a company in California, Tag-It-Pacific, acquired Talon Zipper and changed its name to Talon International in 2007. All of the production moved to Asia, hoping to cut costs and restore the company's value and equity.
Throughout the years, Talon zippers were used in Navy life vests, leather bomber jackets during World War II and jeans during the blue jean craze of the 1960s. Talon Zipper created an innovative product that changed the fashion world and is still ubiquitous today.