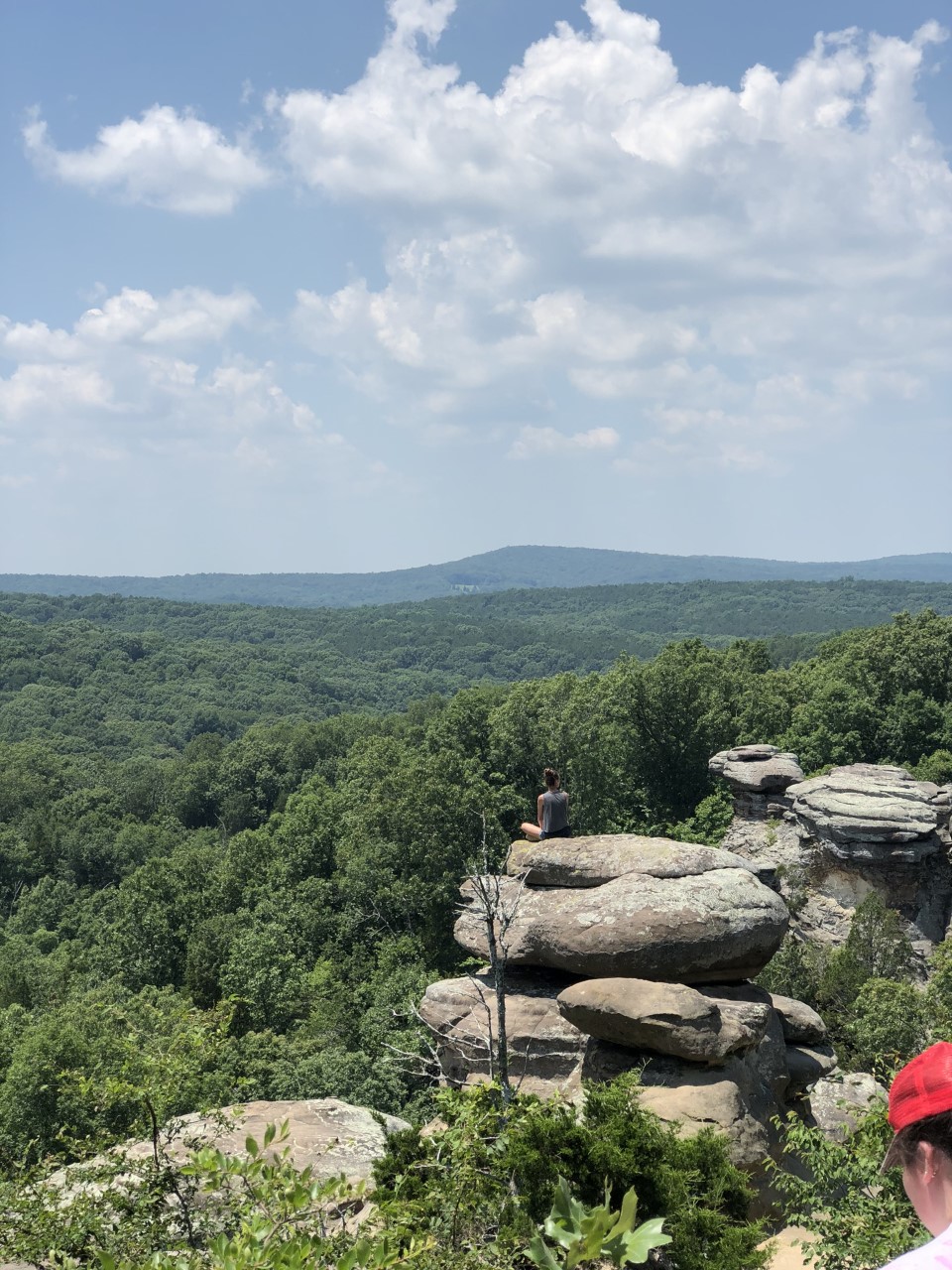 Located outside Harrisburg, Illinois, Shawnee National Forest is a conglomerate of nature, beauty, adventure, and life. If you take a trip to one of Illinois' top parks, check out a few of the following trails:
Garden of the Gods Observation Trail – Along this semi-short trail, hikers will encounter the most recognized rock formation labeled "Camel Rock." This rock formation has been captured and imprinted on U.S. quarters. This hiking trail requires extreme caution, so make sure to enjoy your experience while staying safe.
Rim Rock National Recreation Trail – On Rim Rock trail, hikers will stumble across charming creeks, direct access to Pounds Hollow Beach where camping is imminent, and an enormous stone fort utilized by past Native American inhabitants.
Indian Kitchen Trail – This trail is intertwined with a great part of the Lusk Creek Wilderness, which is also in the Lusk Creek Canyon Nature Preserve. Nonetheless, Indian Kitchen trail is a much more challenging adventure for enthusiastic hikers and equestrians.
Those who pass through here will find signage from the Native American past, caves, bluffs, old homesteads, and abandoned roadways. Due to flash flooding, camping is not permitted within the Nature Preserve. However, canoeing is a common occurrence during the warmer seasons.
Old Stoneface – This trail is a simple path known for its most unique rock formation, Old Stoneface. It is a formation of stones that resemble an aging face.
With this fascinating find, hikers should use caution while exploring the imposing bluffs and a deserted mining cave.
Millstone Bluff – Millstone Bluff provides a brief sense of Native American history by allowing visitors to observe an old village, rock art, a cemetery and interpretive signage. There is also an active spring present.
Jackson Falls – Jackson Falls is almost considered an "all-inclusive" recreational trail for hikers, rock climbers, mountain bikers, and equestrians. This trail is one of the most visited as it is composed of rock formations, waterfalls and boulders. Camping is allowed in this area as long as it does not hinder others' accessibility to the paved track. Visitors are asked to use caution while exploring the site and participating in recreational activities to avoid any hazardous incidents.
Bell Smith White Trail – This scenic trail includes the National Natural Landmark, Bell Smith Springs, and Bay Creek. Bell Smith is for hikers who are on a mission to experience the beautiful essence that is nature. It is mostly toured on warmer days for swimming purposes. As stated previously, users must remember to use caution when relishing in such recreational activities.
Mill Branch Trail – This trail is also known as Red Trail. In order to access this picturesque yet remote 1.5-mile loop trail, hikers must cross a creek. Located in the Bell Smith Springs, Mill Branch houses a waterfall cascade and an old mill site. It is a trail unknown to most Bell Smith visitors, but it is worth seeing firsthand. It is recommended that hikers make their way through this trail counterclockwise.
Little Grand Canyon – Based near Murphysboro, this slightly rugged hike is a sight to see while in Illinois. For over three miles, hikers will be exposed to breathtaking views of a serene waterfall cascade, caves and creeks.
This location provides picnic tables and grills for dining purposes. Guests should make sure they are cleaning up after themselves subsequent to using the resources.
Hutchins Creek South – Described as having a resemblance to the Ozarks, Hutchins Creek provides its guests with a scenic route full of adventure. This recreational location allows for an enjoyable hike, a cool dip in pockets of water, and exquisite finds while rock hounding.
Pets are welcome at all the noted trails as long as they are on a leash. As several of these trails provide picnic tables, grilling areas and restrooms for public use, people are asked to maintain the cleanliness of the areas and care for the surrounding ecosystems.
These Illinois hiking trails are adventure hotspots that should frequently be explored. While everyone benefits from recreation, especially in the great outdoors, it is important to prioritize safety. Visitors are encouraged to admire the stunning rock formations while using caution.