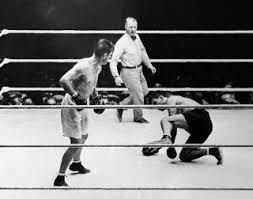 When thinking of boxing, nothing comes to mind more than the classic Rocky Balboa training scene. Everyone feels a sense of victory when Rocky reaches the top of the stairs. But did you know Illinois is home to another classic boxing moment? On September 23, 1927, world heavyweight champion Gene Tunney and former champion Jack Dempsey faced off in a 10-round rematch. Their first match was exactly 364 days prior, where Gene Tunney took the win with a ten round unanimous decision. In 1926 Dempsey had been the popular champion, almost more celebrity than fighter. While Tunney was the underdog, obsessed with beating the champion. Dempsey's 1926 defeat by Tunney was viewed as a shocking upset.
The year 1927 was no different. While Tunney had won the year prior, Jack Dempsey was the favorite to win again, with the public heavily betting on him. 104,000 people flooded Soldier Field to witness the historic rematch. The match would be another 10 rounds between the two heavyweight champions. The first 6 rounds passed by as any normal boxing match. In the 7th round, things took a turn. Dempsey hit Tunney with a left hook and clean up combination that sent him down. In boxing, a knockout occurs when the referee reaches a count of ten seconds. For a fleeting moment, the former champion tasted victory again. But then, Tunney got up at the 9 count.
However, it was not a clear come back for Tunney. Fans on either side went wild, as 5 seconds were lost when Dempsey failed to retreat to the "neutral corner" immediately after his hit. The rules stated the referee could not begin his count until Dempsey arrived in this corner. What should have been 14 seconds down, and a knock out, was only 9 official seconds. After he got up, Tunney went on to win the entire match and beat Dempsey for a second time.
What should have been a victory for a formerly defeated champion, turned into a two-year running heavyweight championship for the underdog. The 5 precious seconds lost forever made this fight known in boxing history as the Long Count Fight.