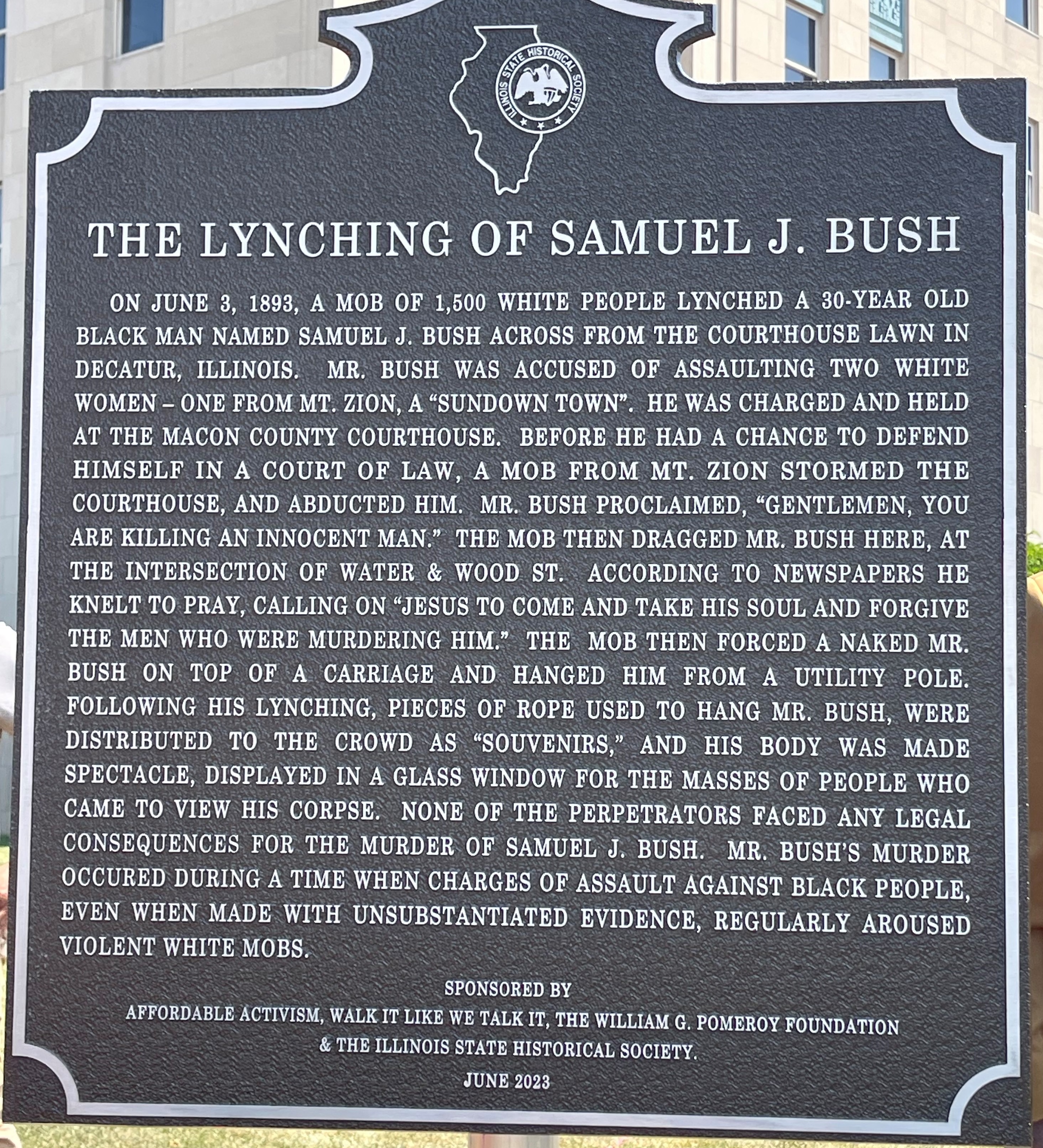 Between 1891 and1914, there were at least 22 racially motivated lynchings in Illinois. On June 3, 2023, exactly 130 years after his murder, the first Illinois State Historical Society marker recognizing the untold stories of racial terror lynchings was placed in the city of Decatur in memory of Samuel J. Bush.
Bush was accused of assaulting two white women on June 3, 1893. He was then charged and held in the Macon County Courthouse. Before he had a chance to defend himself in a court of law, a mob of 1,500 white people from Mt. Zion stormed the courthouse, and abducted him. The mob then dragged a naked Mr. Bush to the intersection of Water & Wood Street, and proceeded to hang him from a utility pole. There, according to newspaper accounts, he knelt and prayed for, "Jesus to come and take his soul and forgive the men who were murdering him."
None of his perpetrators faced legal consequences for his murder.
"For me it's surreal just because Samuel J. Bush was 30 years old when he was murdered. I'm 28 years old, going to be 29 on June 2, which is the day before he was lynched," said Co-Founder and CEO of Walk It Like We Talk It, Dominique Bates-Smith.
There are many individuals who would like us to forget ugly parts of our nation's history, but Decatur activists Dana Thomas of Affordable Activism and Dominique Bates-Smith of Walk It Like We Talk It believe we have an obligation to make sure that the many stories like Bush's lynching are told.
"With all things COVID and reflecting on Trayvon Martin, Sandra Bland, Breonna Taylor, George Floyd and countless others, I felt like I wasn't doing enough," said Dana Thomas, founder of Affordable Activism. "And I wanted to do something about it. I thought, at least, I could get a historical marker for Mr. Bush."
Together the two nonprofit leaders fought to bring awareness to Bush's story commissioning a historical marker through the Illinois State Historical Society on the grounds of Macon County Courthouse, just feet away from where Bush's murder occurred. This historical marker is the first of its kind across the state of Illinois to recognize an individual's racially motivated lynching. In addition to the historical marker, the mayor of Decatur issued a declaration marking June 3 as Samuel J. Bush Day as a testament and reminder of the injustices and racial terror that Black people had to face.
This gathering for the unveiling of Samuel J Bush's historical marker is just the beginning for these local activists. They believe there is still far more work to be done on the road to justice. From acknowledging the traumatic horrors of our past, to promoting healing and peace, Thomas and Bates-Smith want to shed light on the good things happening in their community, too.
"This is a call to action behind the scenes for marching," Thomas said. "My mind is blown that it is done and I'm just eternally grateful. I'm overwhelmed, I am happy, I am sad, and I want to weep."
If you would like to support this cause, you can donate at gofundme.com/samuel-j-bush-historical-marker. Contributions will support the expenses of the marker, the Samuel J. Bush scholarship endowment to be awarded to students annually, and will aid the continued work of obtaining markers that highlight untold stories of marginalized groups in the area.