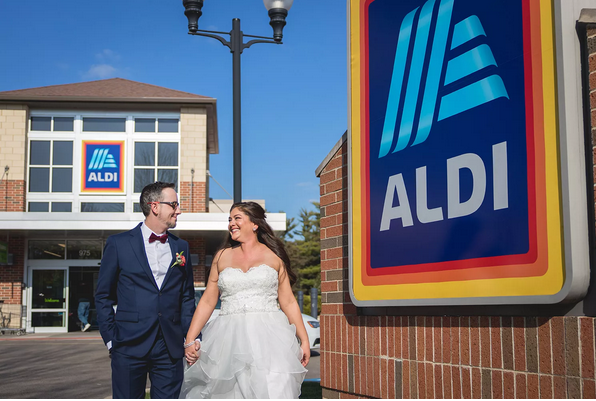 What better way to end a fairytale romance, than with a grocery store wedding? A white dress, "I do's" and fresh produce were all present at the wedding between Michael Hurd and Jessica Bojanowski. The couple won a contest to have their wedding at an Aldi grocery store, and on Nov. 9, 2022 they exchanged vows between the aisles at the supermarket's model location in Batavia. The couple won the 'Happily Ever Aldi' contest, where winners would receive a free-of-charge wedding, including hair and makeup for the ceremony and a professional photographer.
The couple noted their love of Aldi, saying how their busy work schedules leave little time for romance, so their weekly Sunday morning Aldi grocery trips became a tradition where they always made time to spend together. Jessica and Michael won out of 500 other couples who applied to get married at an Aldi. They were the first couple ever to get married at one of their locations.
The wedding was officiated by one of the grocery store employees. After the ceremony, guests headed to the beer and wine section for the reception. Cocktail hour consisted of Aldi classics like chicken sliders, jumbo coconut shrimp and a charcuterie board that spanned an entire checkout lane. The wedding cake was a three-tiered carrot cake with a wedding cake topper featuring a shopping cart and fondant colors matching the Aldi logo.
In addition to winning the wedding ceremony, the couple also won free groceries for a year and a wedding registry including small kitchen appliances, bedding, towels and home goods. Aldi helped provide essentials for the couple starting out. Aldi is a purveyor of fresh produce, deli meet, milk, bread and love.