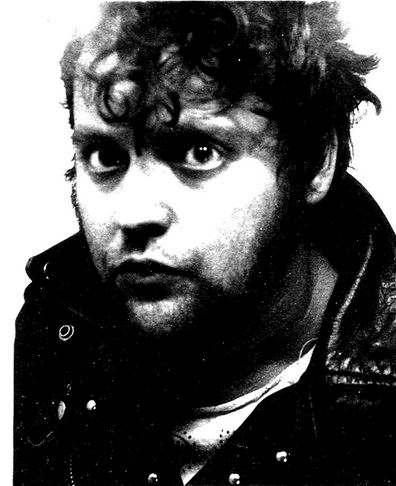 Mac Blackout from Chicago is the December Artist of the Month. He works in various mediums, murals, music, painting on canvas, and drawing, which are all his favorite depending on what he is trying to achieve with a particular piece.
How long have you been an artist or when did you start?
I've been making art since I can remember. My mother, Liz McKenzie is also an artist and was an art teacher in Bedford, IN for 40 years. Needless to say I was exposed to art at an early age and my interest was encouraged as I grew into adulthood.

Was there a single incident or moment when you realized this was your passion and if so, would you tell us about it?
Art has always been a passion for me , a necessity to maintain happiness , and my main vehicle for expression. I've been drawing since I could hold a crayon. I really started to actively develop and hone my artistic skills during my teenage years as a graffiti artist in the 1990s. I went to art school at the Herron School of Art in Indianapolis, moved to Chicago in 1999, started a series of bands, and have recently been very active creating murals throughout the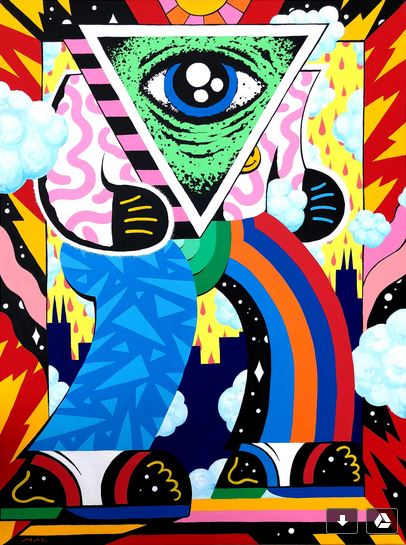 Midwest, focusing on my studio work and gallery shows.

Illinois has factored into your work in the past. What does being able to live and work in Illinois mean to you?
Moving to Chicago in 1999 fueled my artistry or artistic skills, and encouraged me to explore my creativity. Daily life in the city, cultural diversity and the energy of the city are major inspirations. The power and creative energy of the people in a city the size of Chicago is immense. I am very happy to see the city accept and push public art in recent years. Times have changed and people want their city walls to reflect their humanity, positivity, and dreams. I recently painted a large scale mural in Kankakee -It features characters I call "Geometric Giants" which possess human like characteristics merged with the geometric forms of our dwellings, and technological design, creating a cosmic caricature-like portrayal of human existence. In this way Illinois and the city of Chicago are physically, visually and metaphysically part of the work of art.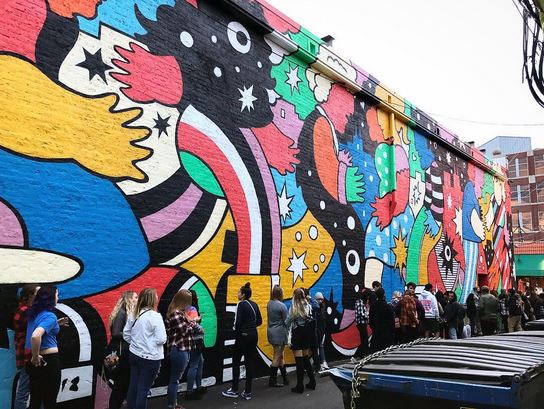 What opportunities does Illinois present to local Illinois artists?
I was recently part of the "Toy Box" exhibit at the Illinois State Museum. They do amazing work curating Illinois resident specific exhibits. I recently painted the side of Lincoln Hall in Chicago for the Lincoln Park Chamber of Commerce. There are many opportunities for hard working artists. Private businesses contribute considerably to the public art we see on the city streets as well.

What do you like about Illinois?
The Midwest has a unique humble, honest, and hardworking energy. Illinois is at the heart of it with Chicago as an epicenter of creativity. I love Chicago.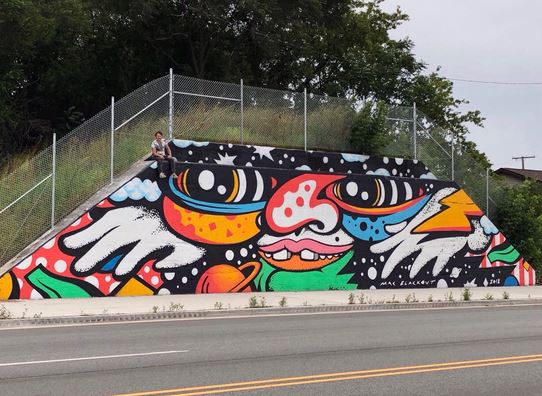 What is your favorite medium to work in?
I work in many mediums-murals , music, painting on canvas, drawing, and painting on found objects like my expansive series of painted boomboxes (100+ painted over the past 6 years), book arts, and printmaking. All are my favorite depending on what I'm trying to achieve with a particular piece.

Where can people view or purchase your work?
You can see my work online at macblackout.com . I have an online shop there as well. Follow my Instagram (@macblackout) for news on my latest gallery shows to purchase original pieces. In the real world keep your eyes out for my murals all around the city of Chicago and many more cities in the future!

What artist inspires you and why?
I really can't pinpoint a specific artist because there are so many inspirations -or who inspire me. Every artist that strives to unselfishly use their talent to create a truthful reflection of life for us to relate to, and feed off of , is great inspiration to me. If I had to name an Illinois artist that was most inspirational to me , It would probably be the legendary Chicago muralist, William Walker.