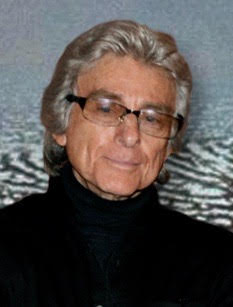 Tom Heflin of Rockford is our June Artist of The Month. Hieflin began his career as an artist in the spring of 1970. He often opens his home to visitors who can come and view his latest work.
How long have you been an artist or when did you start?
With a wife and five children I was working in a sign company and doing my art at night and weekends waiting for the proper time when I could launch my career as a fine artist. It took 16 long years but I reached a point when I was 33 years old and decided it was now or never. I found an abandoned farm house on a dead end road 10 miles from the little city of Freeport, Illinois. The owner gave me permission to use it and wouldn't charge me rent because it had no indoor plumbing and only a kitchen wood stove for heat. So with my hopes and dreams I moved into this old haunted place and started my career as an artist in the spring of 1970.
I would drive home on weekends to be with family and return to the farm during the week. Of course my family and friends thought I had lost my mind but to everyone's surprise including myself my first show that October was a complete sellout. The city of Rockford and surrounding areas made this possible by purchasing my work. The Rockford Register Star newspaper also played a large role by doing several articles on my venture. So it is possible to become an artist in a midsized city in Illinois if one is willing to sacrifice and put in the required dedication of hard work.
Was there a single incident or moment when you realized this was your passion and if so, would you tell us about it?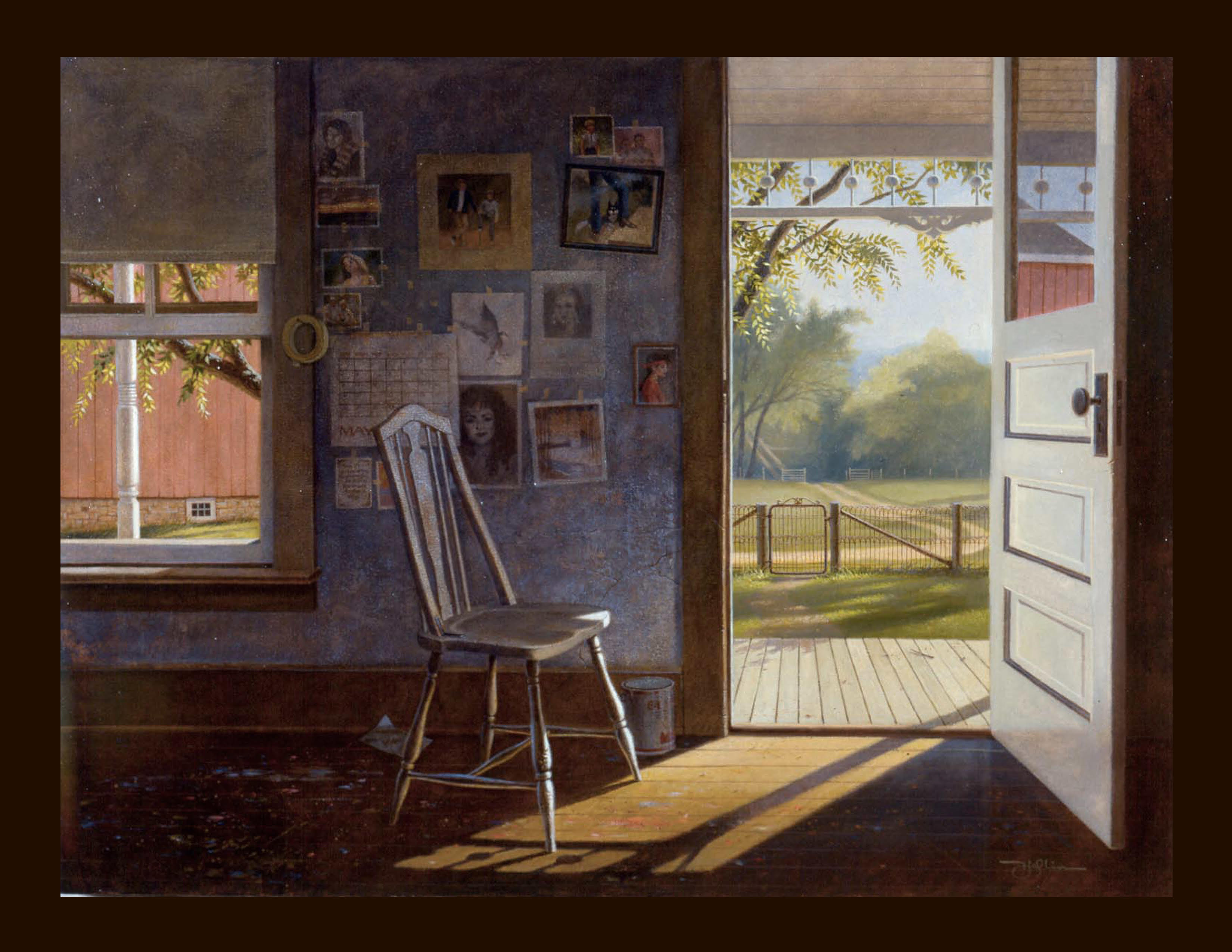 One single thing that encouraged me at a critical time in my young life was a 7th grade teacher. Mrs. Marie Markham caught me drawing behind my math book and took me out of the room by the ear, where I thought I would receive some kind of punishment but was surprised when she lectured me on drawing on that ugly blue lined notebook paper. She told me she had some nice drawing paper in her desk drawer that I could have. We didn't have art classes back in those days and I was constantly getting in trouble for my drawing when I should have been doing school work. Mrs. Markham said she would give me some free time several times a week to use a little empty office to draw. When the principal found out about our little arrangement she put a stop to it however Mrs. Markham had already planted that little seed in my heart that said I was worth something. I will always be indebted to that wonderful teacher
What opportunities does Illinois present to local Illinois artists?
The Rockford Art Museum has many resources including The Discovery Center. RAM exhibits many shows from high-profile artists from around the country and Chicago. They also have a Biennial Show for Midwestern states that includes participation from local artists as well. The Rockford Arts Council sponsors many opportunities for artists in the area including Art Scene each spring and fall where local businesses open their space for artists to exhibit their paintings. A couple more include The Rockford Art Guild and Womanspace.
What is your favorite medium to work in?
I work in oil, acrylic and watercolor depending on the subject at hand. I came up with an idea to paint on what I call "acrylic on crushed paper" that has become very popular to a lot of my clients. I crush paper in stained water and apply this to a panel using acrylic medium as a glue to adhere it to the masonite panel that has been primed with gesso. When dry I use acrylic paint in very transparent layers which resemble watercolors.
Where can people view or purchase your work?
At one time I was represented by galleries in Chicago; Naples, Florida; LaJolla, California and Scottsdale, Arizona but beginning in the late 1980s I began having annual shows in my home, studio and gallery which became such an event that I no longer needed the support of outside representation. Now I open my home for visitors by invitation. All those interested in viewing my latest work have to do is give me a call or email a day or two ahead of time.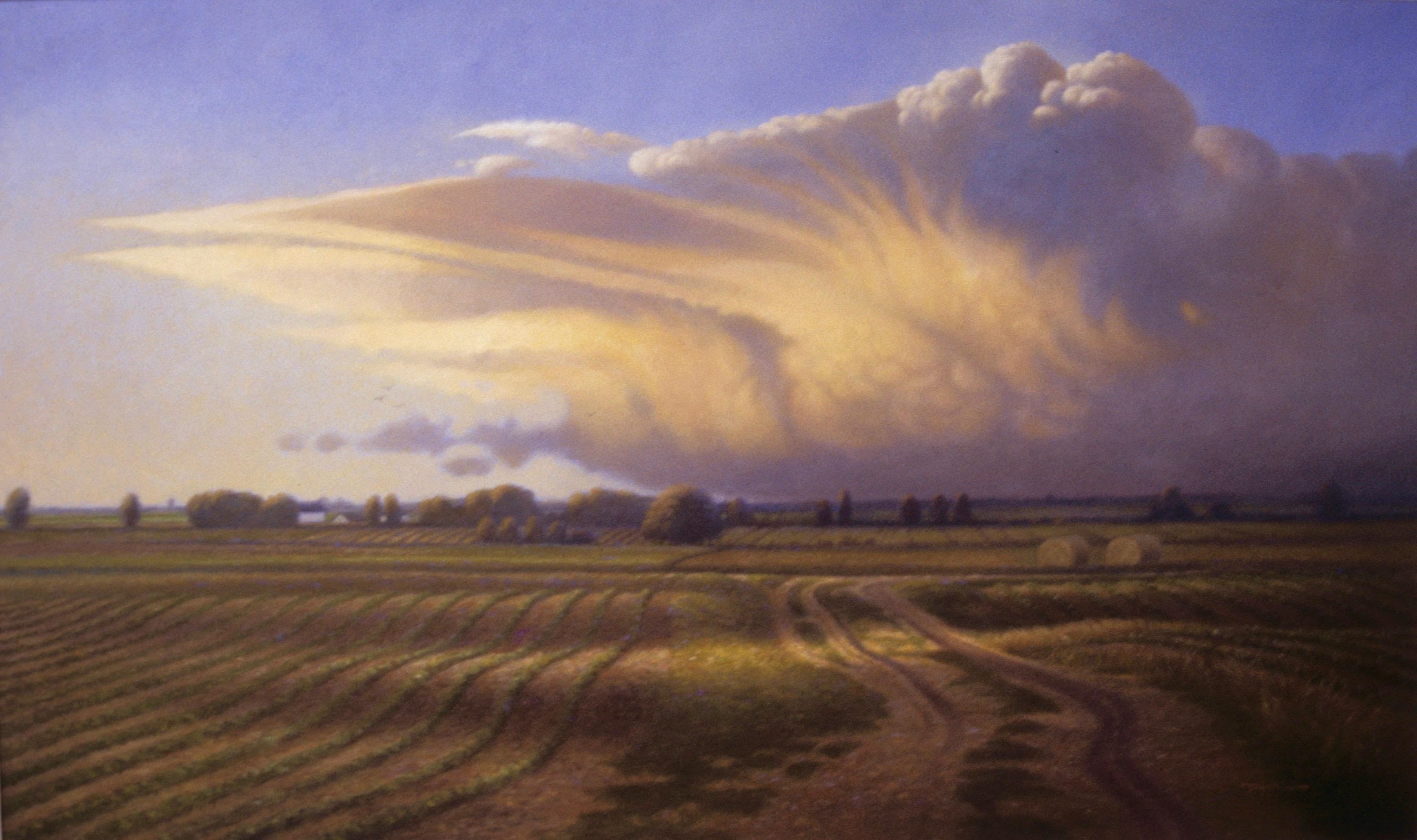 What artist inspires you and why?
A lot of artists inspire me. Billy Morrow Jackson who lived and worked in the flattest part of Illinois near Urbana painted remarkable landscapes and figures in that area.
Andrew Wyeth's skill at rendering the human condition and commonplace subjects and landscapes really struck a chord with me. Another Illinois artist by the name of Ivan Albright did a painting titled "Into The World Came a Soul Called Ida" that still haunts me to this day. And of course the great John Singer Sargent has become the favorite of so many artists for his shear skill at manipulating the brush with an astounding sense of color in his rendering of portraits.
What do you like about Illinois?
I have actually grown to like and appreciate the simplicity of the Illinois landscape. An artist has to make use of every little nuance of the nearly flat panorama of fields, woods and buildings. Sometimes, for a change of pace, I drive west towards Galena, Illinois in the far northwest corner of our state where the landscape begins to resemble the smoky mountains.
What does being able to live and work in Illinois mean to you?
Many years ago the owner of Troys Gallery in Arizona who handled my paintings told me if I would move to Scottsdale he would make me a rich man. At that time I had a wife and five children, a comfortable home with an attached studio on five acres of wooded land in Rockford, Illinois.
Of course I was flattered that the gallery had that much confidence in my work, and it's no secret that the East and West Coasts have more galleries and buyers than Illinois, but my wife and I thought Rockford was a better place to raise our children. The people in Rockford and surrounding cities have thus far made it possible for me to make a living entirely on the sales of my art, so I had no need to uproot my family and move to Arizona.