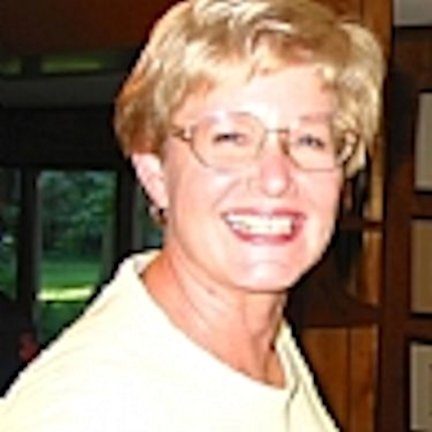 Biki Chaplain is our September Artist of the Month. Orginally from Texas, Chaplain moved to Southern Illinois in the 1960's. Although she has worked in many mediums throughout the years her favorite to work in is oil because of the quality of the color.
Was there a single incident or moment when you realized this was your passion and if so, would you tell us about it?
As a child I continued to draw but it wasn't until I was about 13 and sketched a picture of Sophia Loren from the cover of a magazine that I developed a passion for art. I was pleased with my sketch of Sophia Loren and felt that art was something I wanted to pursue. As a result, I majored in Art Education in college.
What does being able to live and work in Illinois mean to you?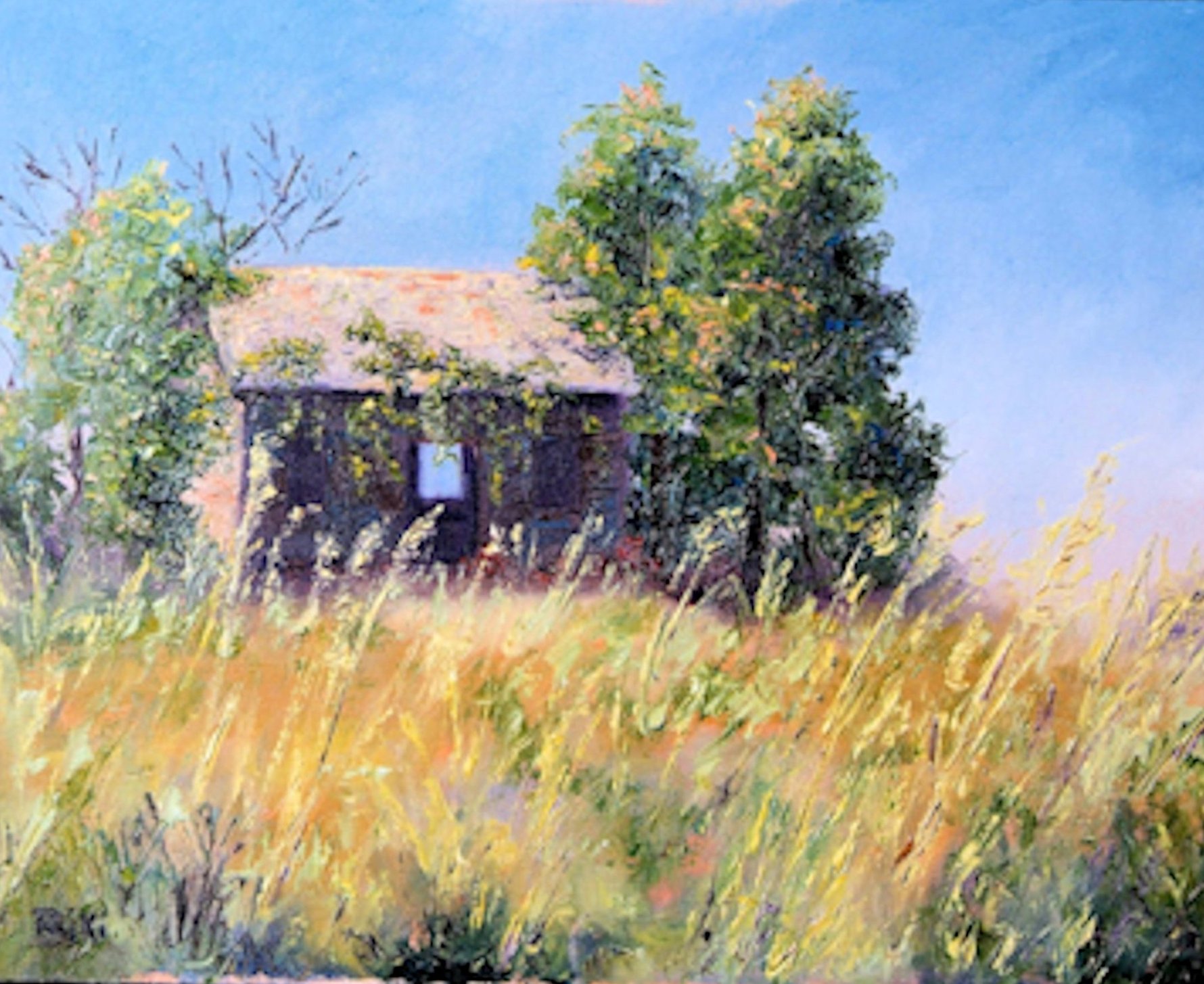 As a child growing up in a big city in Texas, I knew that I wanted to live up north in a small town that had four seasons and tall trees whose leaves changed color in the fall. Living in rural Southern Illinois has fulfilled those dreams.
Benton is a small, quiet town where people are friendly and know each other. It is a pleasure to work here, especially since the internet makes obtaining supplies, connecting with people and accessing information effortless and it is close to many acres of natural beauty.
What do you like about Illinois?
As a painter of landscapes, Illinois is a wonderful place to live and work. It has a variety of landscape from lakes to flat plains, big cities to small rural towns, rivers to streams and the southern area is filled with beautiful cliffs, waterfalls, forests, swamps, and rock formations. This part of the state where I live includes the Shawnee Forest and many parks and recreation areas for hiking, camping and boating as well as painting – Ferne Clyffe, Dixon Springs, Bell Springs, Giant City, and Garden of the Gods, to name a few. The area is a source of constant inspiration for me. I find that the light as it plays throughout the forest and the reflections in the various bodies of water is fascinating.
What artist inspires you and why?
The French Impressionists such as Claude Monet, Edouard Manet, Vincent Van Gogh and the Russian Impressionists such as Nikolay Feshin inspire me. It is their use of color and light as well as their loose brush strokes that are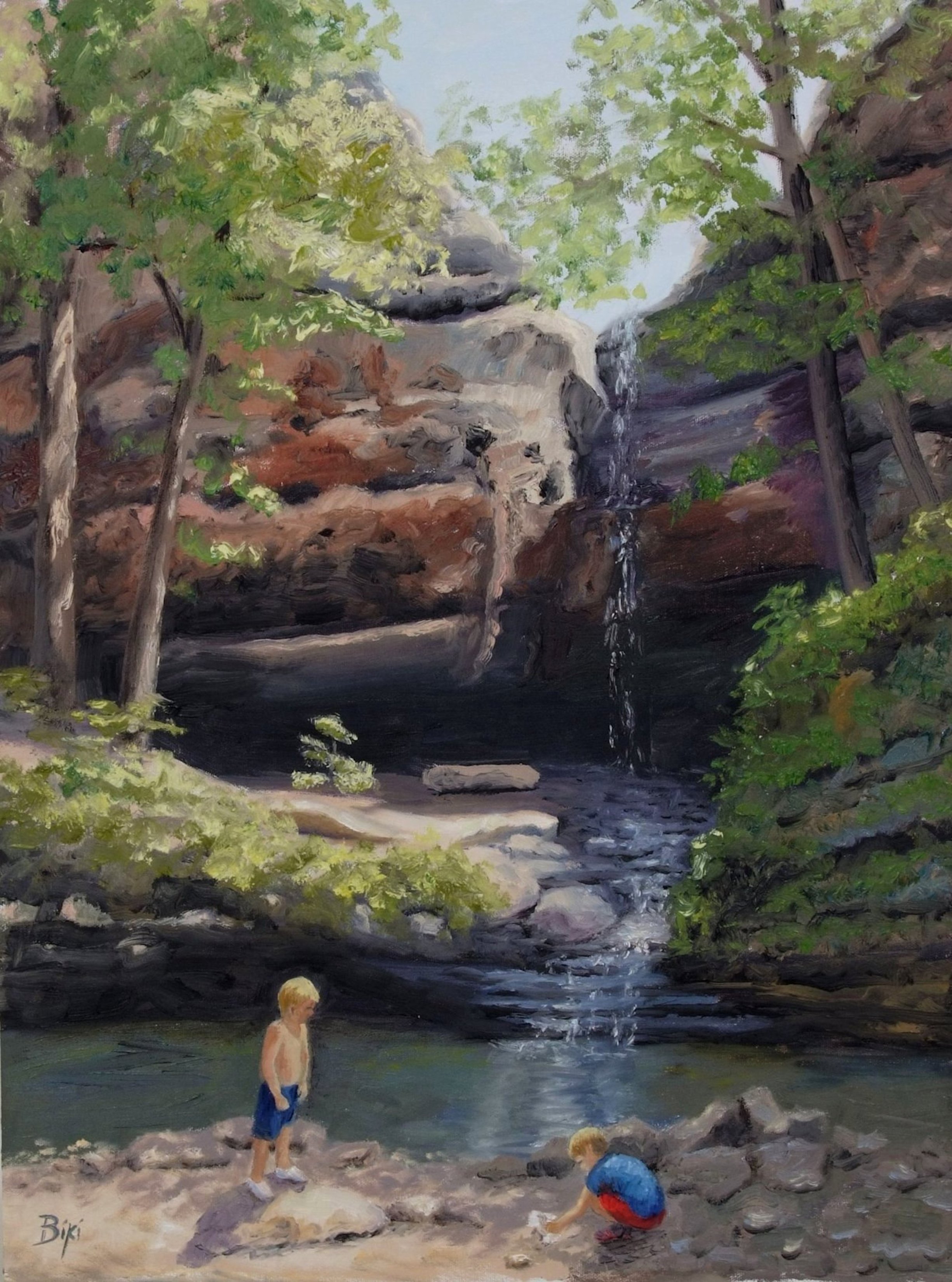 especially appealing. Joaquin Sorolla y Bastida is another favorite of mine. His use of light and shadow in his sunlit scenes of people by the sea is beautiful.
Where can people view or purchase your work?
People can view my work on my web site www.BikiChaplain.com, follow me on Facebook or sign up for my periodic newsletter. My work can normally be found in the Hartley Gallery located in Herrin and at my studio in Benton. Though my studio is open any time by appointment, once a year I have an open house at my studio. I am also a member of the Art Alliance which is an organization of artists who once a year have an Art Tour or Art Trail in southern Illinois in November. Information regarding the Art Tour can be found on Facebook under Art Alliance of Southern Illinois.
What is your favorite medium to work in?
Though I have used many mediums throughout the years—pencil, ink, pastel, watercolors, and acrylic—oil is the medium I have been using for the last 10 or 15 years. I like oil because of the quality of the color and its natural sheen. I enjoy pushing the paint around on the canvas and often use a palette knife as well as brushes to apply my paint. I normally use a canvas boards by either Raymar or Classens because they are not as fragile as a stretched canvas and I find them easier to use outside. I do some of my painting pleinair (outside). At times I may start a painting pleinair and then bring it in to the studio to complete. At other times, I have a small pleinair painting that I use as a basis to paint a larger painting in the studio. I will also use photographs taken of the scene.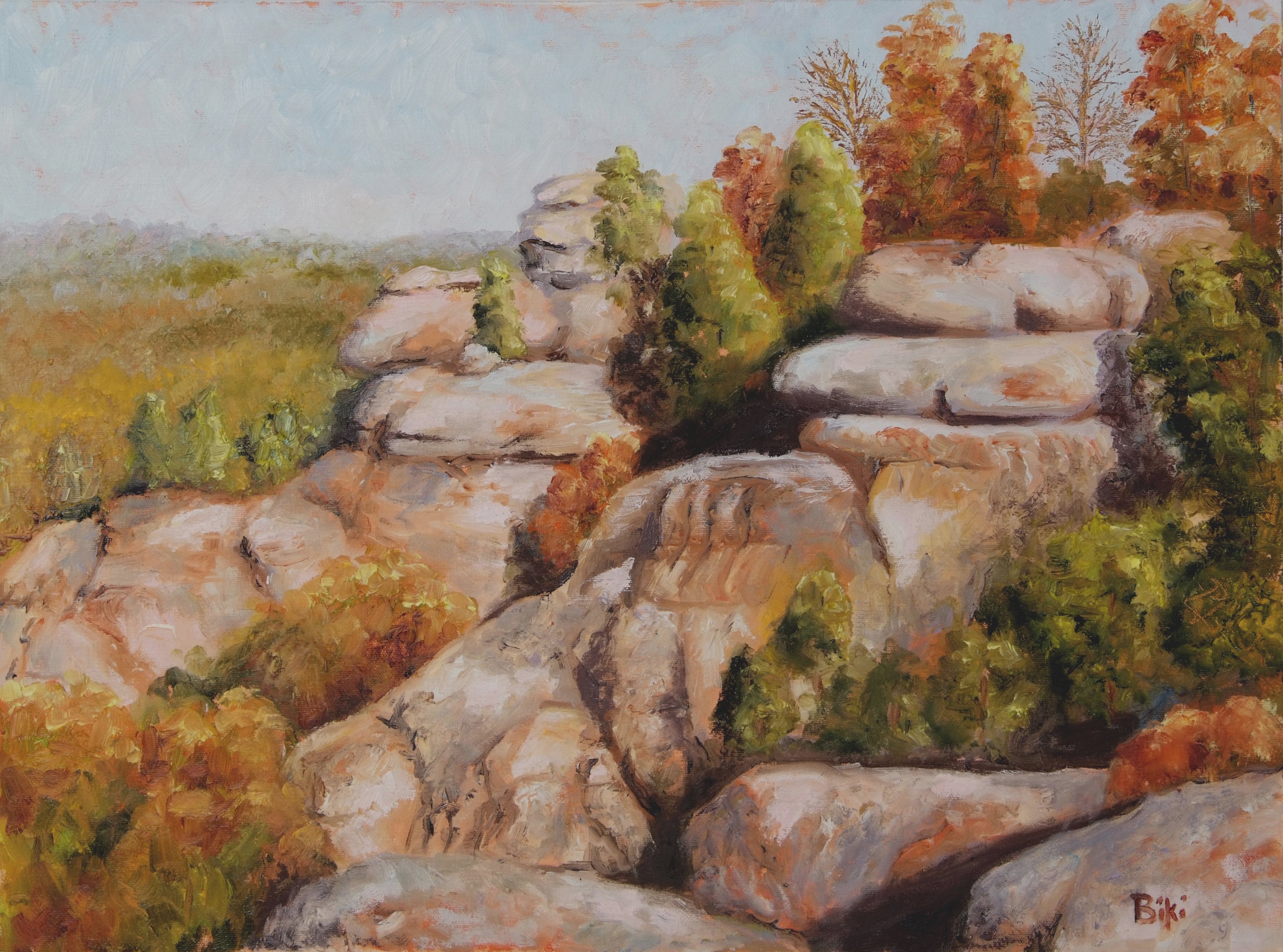 What opportunities does Illinois present to local Illinois artists?
Until the last few years the state of Illinois sponsored several Arts and Crafts Market places and it would be nice to see those brought back. However, there is still an art/painting section at the State Fair in Springfield and Du Quoin, IL. In the Southern part of the state, the Cedarhurst Art Center and Southern Illinois University have large footprints. Cedarhurst in Mt Vernon sponsors a Biennial Show for artists in the state and several more yearly local shows through the Shrode Center which is located on the Cedarhurst grounds. The Shrode Center also has classes for adults and children as well as workspaces for pottery, weaving, basket making, etc. Cedarhurst also sponsors an annual Craft Fair that includes painters, potters, wood workers, jewelry makers, etc. There are several Art Guilds in the southern area and several large Art Shows that pull from Illinois and close Midwestern states.