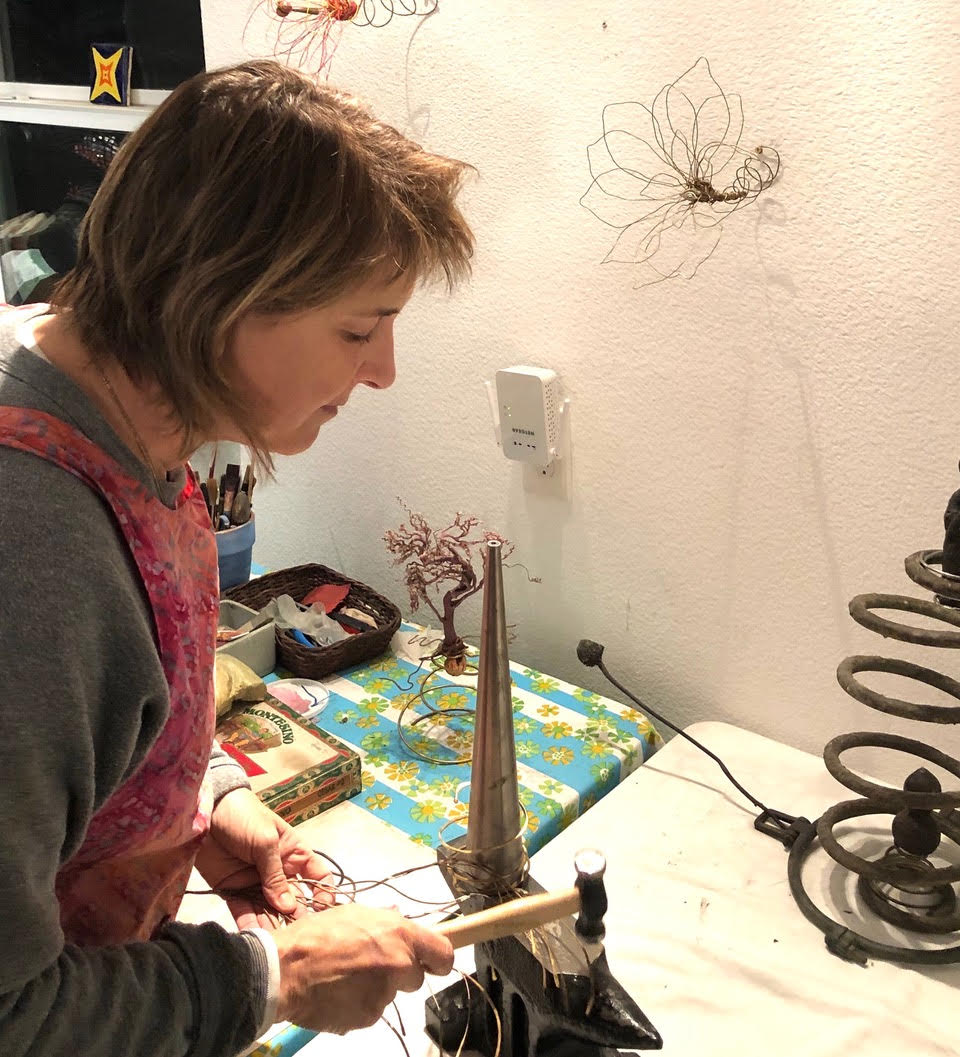 Donna Zarbin-Byrne is our February artist of the month, representing both Evanston and Chicago. Since childhood Donna has wanted to be an artist. Today, her work can be found not only in Illinois but Honolulu, Hawaii, too.
What does being able to live and work in Illinois mean to you?
Living and working in Evanston and Chicago has afforded access to a multitude of art venues throughout my life. Additionally, the many cultural experiences also inspire and encourage my practice in the arts.
The city of Chicago, with its architectural history, is a place I never tire of exploring. I work in many materials and media and never stop learning and I have taken advantage of quality art centers such as The Evanston Art Center and Lill Street Art Center, Chicago. And finally, the Lake is a continual place of beauty, adventure, and contemplation for me.
Was there a single moment or incident when you realized you were an artist?
Although it may sound cliché, I really did know since childhood that I wanted to be an artist. My mother's way of dealing with long winters was to take my sisters and me often to museums, especially the Art Institute. When I was about
five years old, we took a mother-daughter ceramic class and after that I always had a bag of clay at the ready to express myself. Sculpture became my way of expressing what I experienced in life. I can remember that every week we would drive my grandmother home where she lived off of Lake Shore Drive and we would pass by "The Thunder Maker", The Totem Pole at Addison Street and Lake Shore Drive sculpted by Toni Hunt, the chief of the Kwagulth tribe in British Columbia. As early as age eight or nine I was sculpting in clay my impression of the Totem pole, complete with wings and animal forms. I realized that I delighted in expressing all that amazed me into plastic form.
What do you like about Illinois?
In addition to all that Chicago has to offer, Illinois boasts a treasure of natural beauty, such as Starved Rock State Park and the Rock River Valley ( near Rockford) where I participated in a memorable artist residency, "The Fields Project." I collaborated with farmers, to translate a drawing using a GPS system onto a 15-acre parcel of fallow farmland. The farmers and artists worked together cutting out the drawing with tractors. The project concluded with a festival with airplane rides of aerial views of the drawings.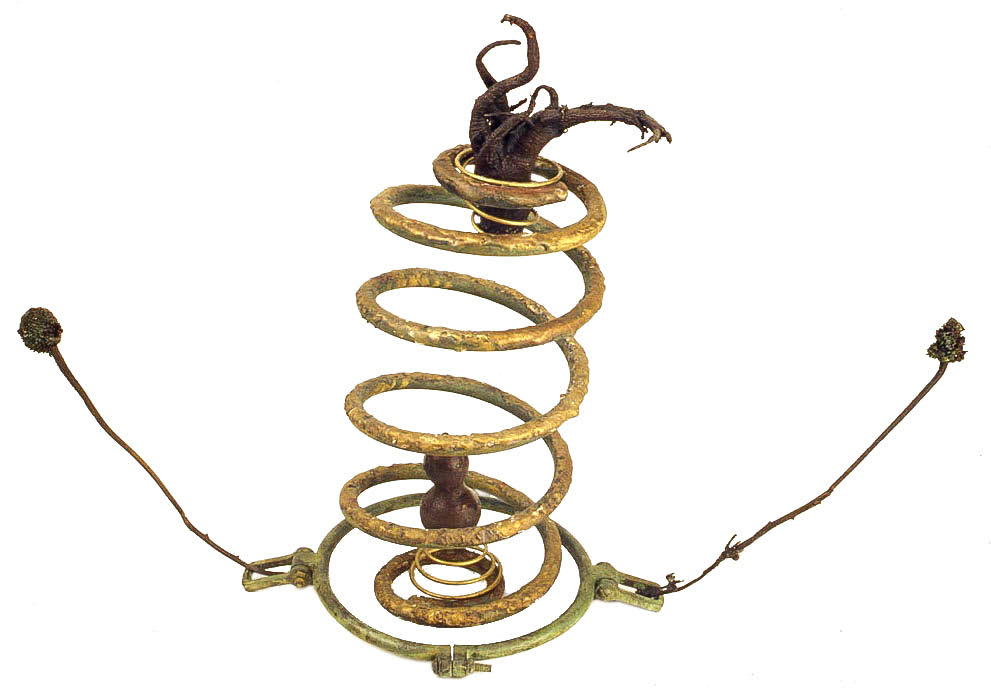 What artist inspires you and why?
Jim Dine is one of my favorite artists. I love that he traverses many materials in his paintings, prints, drawings and sculpture. After attending art school, I first viewed Jim Dine's work in Chicago at the Richard Gray Gallery. And, then, I happened to have the opportunity to view his work in private and corporate collections. In April of 2006, a major exhibit of Jim Dine's work at The Block Museum of Art, Evanston, was a pivotal show for me personally to view.
Dine's work includes humor, referential imagery and abstraction. There are many images that can be associated with Jim Dine such as his use of hearts, but his practice is very diverse. He has used the hearts as a "template for his emotions; they are a landscape for everything."
Dine has given me permission, if you will to, explore many different materials and disciplines. His draftsmanship is amazing and although you may not associate my work with literal figuration, I have spent many hours in museums sketching from his drawings.
What is your favorite medium to work in?
I work in many different mediums depending on the application (outdoor, indoor). For the last number of years I have been working with various processes of metalwork: casting in bronze and fabricating in steel and brass. These mediums are often combined with encaustic on handmade paper.
What opportunities does Illinois present to artists?
Chicago is a town rooted in architecture and interior design. These disciplines provide many points of collaboration for artists in addition to the many galleries and other venues to show your work. There are also many quality museums and art centers outside the city limits. And most important, Illinois is filled with a generous and talented art community.
Where can people view or purchase your work?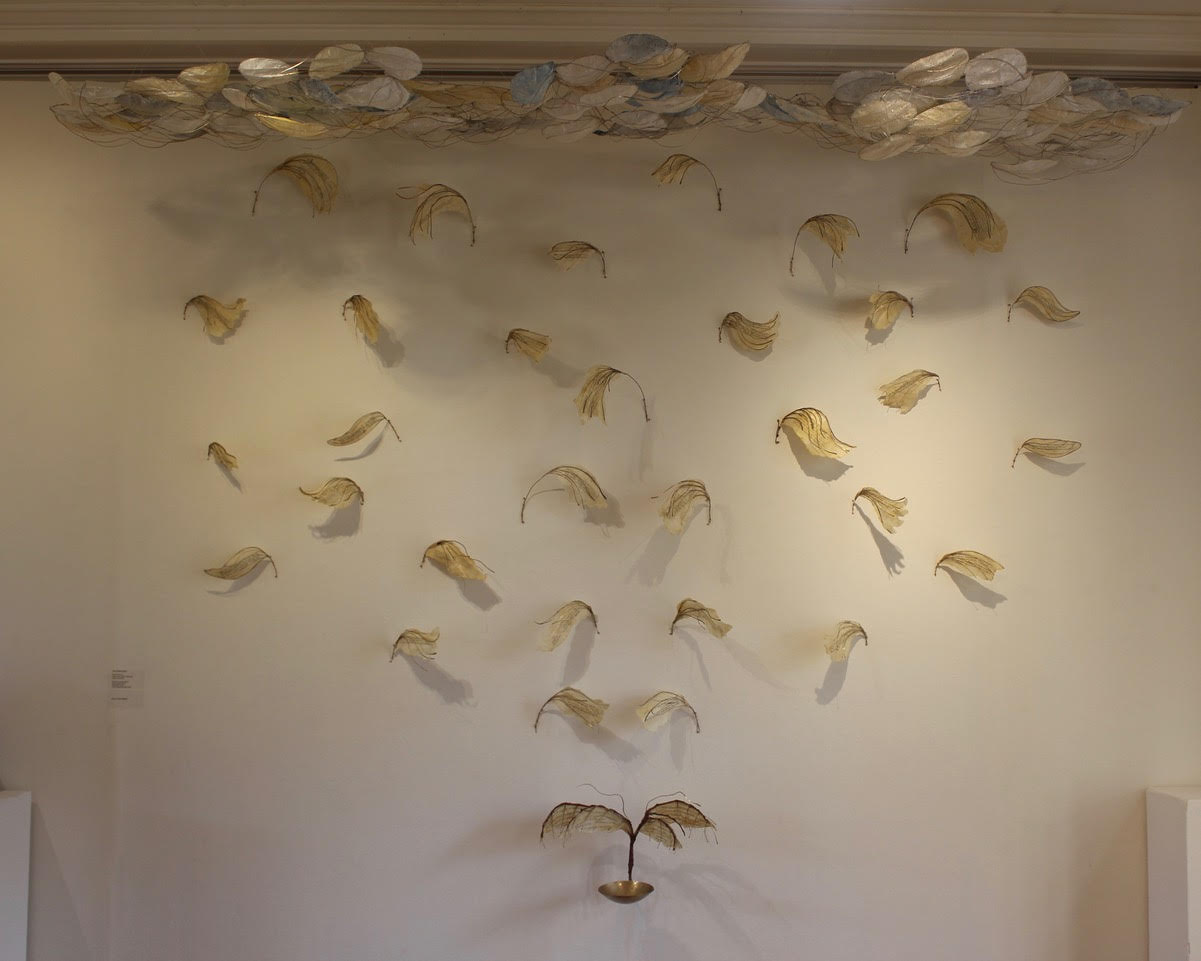 My public art in Illinois can be seen at Firestation #1 in Evanston, Il. Aqua Vita is a bronze and landscaped installation which whimsically highlights firefighters' tools and pays homage to the significance of fire and water. Within a 16-foot curving architectural space at Moriah Congregation, Deerfield, Il. I created a three-dimensional illuminated manuscript highlighting the botanical stages of the pomegranate which has symbolic significance in the Torah. Another public sculpture can be seen at St Phillip Lutheran Church in Glenview , Il. The Tree of Life, a 16-foot steel and bronze sculpture with kinetic elements is installed in the edge of the forest in the outdoor worship area. This work which contrasts strength, fragility and the cycles of life was created as a memorial.
My work can also be seen on my website donnazarbinbyrne.com, Instagram @donnazarbinbyrneart and my Facebook page is Donna Zarbin-Byrne. If you are in Hawaii, you can also find my work at Hawai'I State Art Museum Gallery, (HISAM )in Honolulu.