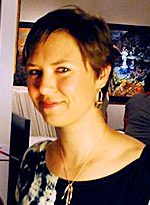 Our Illinois Artist of the Month is Anastasia Mak, a native of Ukraine who made our state her home and the subject of many of her paintings. She is inspired by Illinois artists, subjects, places and the state's friendly people. Read on to learn more about Anastasia and see more of her artwork on her website.
ILI: How long have you been an artist or when did you start? Was there a single incident or moment when you realized this was your passion and if so, tell us about it?
Mak: I have been drawing/painting ever since I was able to handle pens, brushes and markers — which, I am told, started at around 2 years of age. My mother was very happy because I have always been able to occupy myself with art for hours, and she didn't have to constantly entertain me. Also, ever since I remember, I have wanted to be a professional artist. When I was 11 though, my dad broke it to me that it would probably not be feasible to earn a decent living in the arts, and when I go to college, I should study something "more useful." I remember that moment so clearly — we were sitting on a bench in New York's Central Park, having that conversation, and I was thinking: "Now what? My life has no meaning!" — at 11! So, well, in college I studied business. And then became an artist.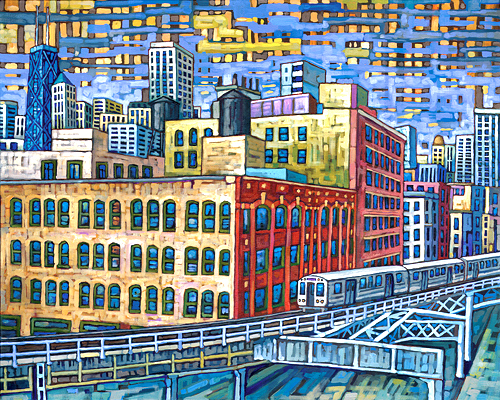 ILI: Were you born in Illinois? If so, where? If not, what brought you here and when?
Mak: I was born and raised in Ukraine, and moved to the States permanently at the age of 14. (Technically, that was my second move to the U.S. — my family and I moved here for a few months when I was 11, but then my parents decided to return to Ukraine because it declared independence from USSR and its outlook briefly seemed positive.) So, then, I spent a year in St. Louis, and after that high school and college in Atlanta. I came to Chicago after college, looking for a city that "fits" me better. Twelve years later, I still think Chicago fits me pretty well.

ILI: Illinois has been factored into your work in the past. What does being able to live and work in Illinois mean to you?
Mak: Here, I am surrounded by inspiring people, a great artist community and fantastic, loyal customers. One of the factors of me choosing to move to Chicago was this city's connection to the arts. But after spending more than a decade here, I am still blown away by new talent and creative diversity I keep coming across. And because Chicago is the subject matter of many of my works, I enjoy drawing continuous new inspiration from the city's views. Other locations downstate (such as Peoria, Springfield and Jacksonville) have also shown me great hospitality and supported my work. I really enjoy being an artist in Illinois!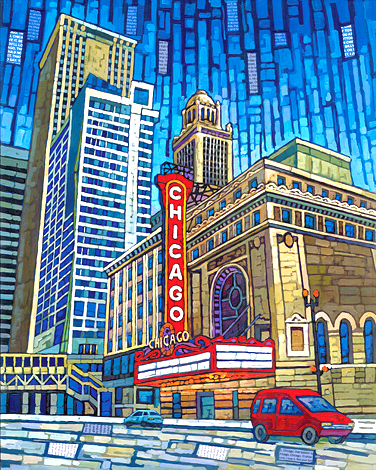 ILI: What opportunities does Illinois present to local artists?
Mak: There are so many: great gallery scene, numerous art festivals and many little independent art stores can be found in our state. But there are also various arts organizations — such as Illinois Artisans, Chicago Artists Coalition, Chicago Artists Resource and others — that provide a wealth of information, workshops and networking opportunities for artists of all breeds and disciplines.

ILI: What do you like about Illinois?
Mak: I like that it has friendly people, the most gorgeous big city skyline, a lake that is (almost) as vast as an ocean, world-class architecture, plenty of great public art, many parks and green spaces, and a lot of possible subject matter for my paintings.

ILI: What is your favorite medium to work in?
Mak: Definitely acrylic; that is the base of all my pieces. I do enjoy adding mixed media into my paintings, such as screen printing, pens/markers and collage. But acrylic is my main "color muse."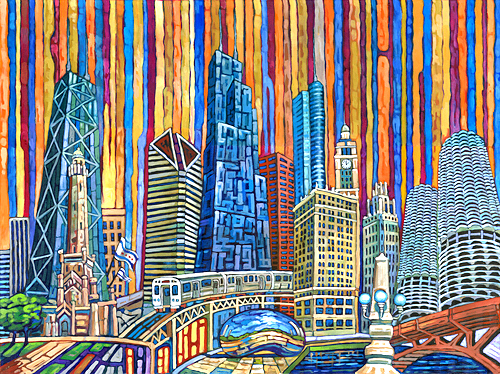 ILI: Where can people view or purchase your work?
Mak: On my website (www.AnastasiaMak.com), or at various galleries/stores, such as Jackson Junge Gallery, Green Sky, Arts and Artisans, Sacred Art, Paperish Mess, Illinois Artisans Store at the Thompson Center and the Illinois State Museum in Springfield.

ILI: What artist(s) inspires you and why?
Mak: I'm not heavily inspired by any single artist, because there are so many great ones that catch my attention. Aside from my enjoyment of street art and gallery/museum shows in many parts of the world, I love following local Chicago-bred talent. Rebecca Moy, Jason Brammer and Tony Fitzpatrick come to mind. Also, Ed Paschke! I will forever regret not going to Ed Paschke's studio tour when I had the opportunity, because he passed away shortly after.
But, to end on a good note, there is so much more great art to discover here, and I am thoroughly enjoying the process!