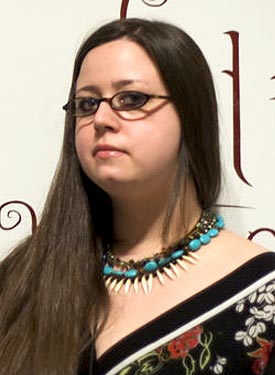 Art in Illinois isn't confined to cities or art museums, it is in our streets, parks, civic spaces and restaurants. Illinois artist Felicia Olin's works in paint and mixed media include familiar faces and places in our state. Born in Marion County, Felicia studied art at Benedictine University and Illinois State University and lives in Springfield. See Felicia's art and where it has appeared on her website.
ILI: How long have you been an artist or when did you start?
Olin: It is hard to say how long I have been an artist because I have been obsessed with making art since I was able to grab a crayon and scribble.
There was never a time in my memory where it wasn't important to me. If there was any particular moment where I became aware of the potential of art in my life, that moment was in 8th grade when my art teacher, Wanda Riseman, entered my work into the Scholastic Art Competition and I had one of my pieces sent to New York for their national judging. It was motivating to know that this thing I just did naturally had some merit.

ILI: llinois has been factored into your work in the past. What does being able to live and work in Illinois mean to you?
Olin: I have shown work in cities as small as Elkhart and as large as Chicago. Both are wonderful in their unique, art friendly spaces. Locally in Springfield, I have never run out of new opportunities and projects, including some inspired by our own local icons, Abraham Lincoln and Vachel Lindsay.

ILI: What opportunities does Illinois present to local artists?
Olin: There are many great arts organizations and shops in Springfield, including The Prairie Art Alliance, The Springfield Art Association, The Pharmacy Gallery, The Illinois State Fair, as well as shops like Studio on 6th, The Blue Door and Urban Sassafras. In every city I have been to, there is an art community that seems to really have a variety of venues to offer, from Jacksonville to Decatur.

ILI: What do you like about Illinois?
Olin: There is much to be inspired by. I love seeing all the wildflowers that grow here, the deer and all the wild rabbits and nature at our parks.
I also enjoy the inspiration of Chicago and all the tall buildings and public art, and it's history. I love the small towns too, and their old buildings and antique shops and local cafes. One of my favorite places to seek inspiration is Allerton Park. It is like walking into a fairytale.

ILI: What is your favorite media to work in?
Olin: I am a mixed media artist because I really love to try new things. I use acrylic paints the most, but I also work in oil, charcoal, graphite, pastel and collage. I am currently working on pieces including charcoal and acrylic together.

ILI: Where can people view or purchase your work?
Olin: It can be found at a few places, including Horsefeathers / The Wild Hare Cafe in Elkhart, Obed and Issac's restaurant in Springfield, as well as Murphy Loft, and The Pharmacy Gallery's shows.

ILI: What artist inspires you and why?
Olin: There are so many great local artists around of whom I am a fan. We have hundreds of talented people right here in Springfield. I do want to grow up to be like George Colin, though. He is so unbelievably driven and has made so many beautiful pieces. His energy to make art is truly inspiring.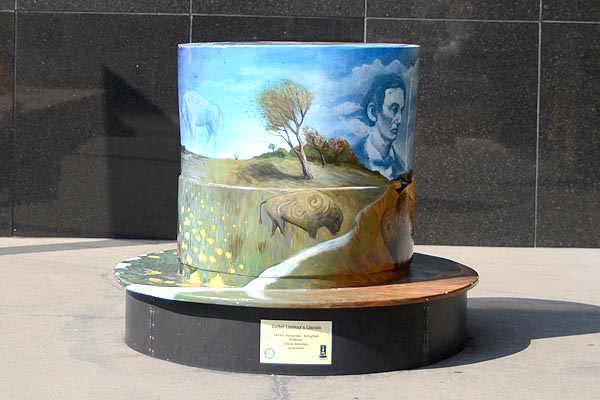 "Vachel Lindsay's Lincoln" was Felicia Olin's contribution to the "Hats Off to Mr. Lincoln" project in Springfield, commemorating Abraham Lincoln's 200th birthday. The installation is located at the front entrance to the Illinois State Museum, 502 S. Spring St., Springfield, Illinois.