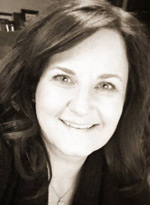 Chicago native Jessica Rosengard is a photographer who enjoys taking pictures of just about anything that is in her path. Many of Rosengard's photos are of places in and around Chicago. Her goal is to take a new approach to color, light and contrast in the hopes that people will share the passion and spread the beauty of each unique view.
When not taking pictures, Rosengard stays busy as the owner of a graphic and website design business. She also enjoys utilizing her creativity to work in different art mediums.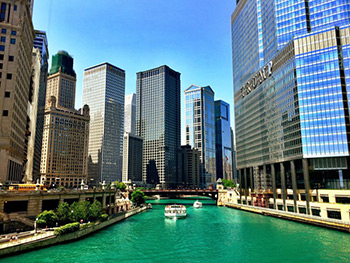 ILI: How long have you been an artist or when did you start? Was there a single incident or moment when you realized this was your passion and if so, tell us about it?
Rosengard: I've been an artist my entire life. Since I was a little girl taking painting classes after school, I knew I was destined to make a career out of my creativity.
Over 20 years ago, I started my first business out of necessity. A trendy women's handbag was available in stores but outside the limits of my affordability. Determined to learn how to make one myself so I could own one, after three days, I learned how to hand-make the handbag (designing it in my head based on other bags I saw) and completed the piece. Within a few months, people started asking if I could make them a handbag. And the business started.
From there, I knew I had it in me to create what came to be a number of different creative ventures and my business has evolved ever since to accommodate the changing trends. Despite receiving a Bachelor of Fine Arts in Graphic Design from Columbia College Chicago, I decided to go back at 32 to gain more skills.
I now own my own boutique graphic and website design outfit servicing a wide range of clients from small startups to non-profits and fortune-50 companies.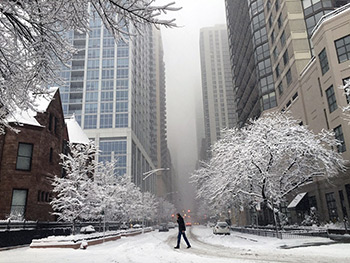 ILI: Illinois has been factored into your work in the past. What does being able to live and work in Illinois mean to you?
Rosengard: I am a Chicago native, having grown up in the North Shore suburbs. I have lived in the heart of downtown Chicago for the past 20 years. For many years, a camera has been an extra appendage and I am known for taking photos of everything. Our city is gorgeous, offering stunning architecture, changing seasons and incredible people.
There are so many photographic opportunities it's really hard to know what I will see when I am out and about, or even standing on my balcony looking around the ever-evolving construction of stunning new buildings.
Being able to walk outside my door, just footsteps away from iconic buildings like The Hancock Center, Water Tower and the Bloomingdale's building, there is never a shortage of views regardless of the season. I have been frequently known to run towards the snow or rainstorm to photograph the area while others are running for cover inside the nearest store or restaurant.
ILI: What opportunities does Illinois present to local Illinois artists?
Rosengard: Anyone who is from or lives in Chicago knows there is no shortage of activities and sightings. I know that regardless of the day, I am going to find something to inspire me to take photos or spark the next creative project.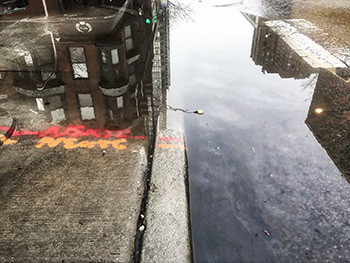 ILI: What do you like about Illinois?
Rosengard: I love Illinois, and by extension Chicago, because we are so centrally located in the country. Saying I'm a Midwesterner sounds odd to me sometimes but just a one hour drive in almost any direction of the center of the city is guaranteed to provide new views, experiences and landscapes. There is absolutely never a shortage of creative inspiration just walking to and from an appointment.
ILI: What is your favorite medium to work in?
Rosengard: Being a graduate of the fine arts, it's hard to pick a favorite medium. I have become quite a techie-nerd with some device always on my person, which includes my mobile phone, a camera and a small notebook to jot down ideas.
Having worked with my hands for so many years crafting all kinds of items (for personal use or commercial sale), I love being able to pull crafting supplies out of my cabinet and start constructing things. Paper and card stock are the most common base materials but the end results have included stationery items, embellished 3D objects and of course, photography prints.
Given my full-time work, it's hard to stray from my computer or devices since they are now the central resource for my research, getting new project ideas, obtaining instructions or connecting with other artists.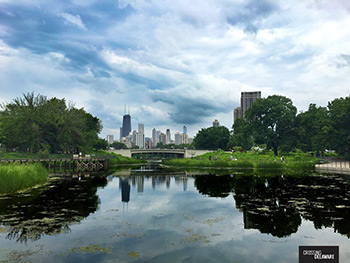 ILI: Where can people view or purchase your work?
Rosengard: In the past year, I created a website called Crossing Delaware to showcase and sell my photography. The name comes from a 'happy accident' photo I took during a massive snowstorm in 2015 of a man crossing Delaware Place, which ultimately inspired the 365 photography project "Crossing Delaware".
From that one inspirational iconic photo, I decided that every day for an entire year, I would venture out to the exact spot where Delaware Place meets Dearborn Street and photograph everything from the constantly changing inclement weather, adults and children walking to school and work, changing seasons, the constant changing position of the sun, homeless people, shopping tourists, dog walkers and so much more.
I am finally finished with the 365 day photo cycle, and currently working to create an installation piece using the more than 800 photos I ended up with (despite expecting to take only 1 per day). The finished installation will be revealed and announced on the crossingdelaware.com website as well as social media as it nears completion.
ILI: What artist inspires you and why?
Rosengard: Leonardo Da Vinci for as long as I can remember. My enormous coffee table book containing the vast collection of drawings, inventions and visions render me speechless. Da Vinci's art can bring me to tears. As I sat alone in silence in the National Gallery in London's Trafalgar Square, I found myself weeping at a very simple and dimly lit framed charcoal drawing of the Madonna and Child. There is something very personal and peaceful about his work, yet I'm electrified by what he was able to produce given the tools he worked with.
I would be remiss if I failed to mention Michelangelo. His work has also had a tremendous effect on me, creatively. Visiting Italy more than 25 years ago and being in the presence of such artistic greatness was one of the highlights of my life. So many pieces of the most spectacular and breathtaking works of art – most from a single and solid block of marble or granite. I am constantly in awe of his work and have even found myself saying out loud, "If he can create THAT out of a rough piece of rock, I can do anything!"