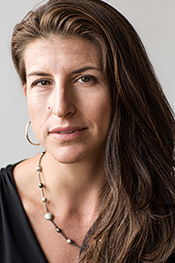 Sarah Kaiser is an Evanston based artist and teacher who received her MA in Art History and MFA from the University of Chicago. Her work focuses on the juxtaposition of figures, animals and patterns unified by a nature-inspired color palette.
She mainly works in oils, using gestural brushstrokes to convey universal themes such as the transience of life, the persistence of time, and the relationship between humans and nature.

ILI: How long have you been an artist or when did you start? Was there a single incident or moment when you realized this was your passion and if so, tell us about it?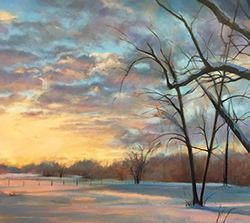 Kaiser: My earliest recollection of making art comes from a photograph my mother took of me when I was three or four years old. I was painting with watercolors, and I remember that there was a picture of Donald Duck on the tin paint box. At the moment in which the photo was taken, I told her that I wanted to be an artist when I grew up. I'm glad she encouraged me. Since I was an only child until age 13, I also needed to fill the time, so I turned to drawing and painting. Mom and I moved often because of her job. I went to 7 different schools between kindergarten and the 12th grade. As a result, I was often the new kid at school, and had to make new friends. This meant that I often had to play alone. When I was bored, I would make art.
I think it was my Grandma Mary who really encouraged me to make things by hand. She was a quilt maker and she taught me to sew when I would spend time with her at house in Kentucky. Since she grew up in the Great Depression, she saved fabric scraps and would even cut up old clothing and turn them into quilts. Even though I'm an oil painter and not a quilt maker, I still credit her with the gift of making everyday materials into something spectacular. In my mind, it was a form of alchemy. When I went to college, I decided to study art. I started out at Miami University in Oxford, Ohio, but transferred to Colorado State University in Fort Collins, Colorado. At times, people would wonder how I would make a living. As a result, I changed my major a few times, but always came back to art. I did struggle for a few years, but now that I have a steady teaching job and am represented by a gallery, I'm not a starving artist anymore. Now I can even afford organic produce!
ILI: Illinois has been factored into your work in the past. What does being able to live and work in Illinois mean to you?
Kaiser: Living in Illinois, specifically in the Chicago area, has opened many doors for me. I came to Chicago in 2000 when I wanted to pursue graduate studies. I knew I wanted to get an MFA, and I thought that Chicago would be the place to do it. I got accepted into the University of Chicago in 2003, and that helped me to plant some roots. It led to landing a teaching job and connecting with many great people.
Now that I have been living in an urban environment for 17 years, I am able to visit spectacular museums and connect with many other visual artists. Evanston, IL is a great place to live because I am able to paint in my studio at the Noyes Cultural Art Center. The building is a former elementary school that was designed by Daniel Burnham. I am very thankful to share an old classroom with two other artists, Jennifer Presant and Jules von Kunhardt. We inspire and learn from each other.
Ironically, I was never much of a landscape painter until recently, and I think that living in an urban environment has pushed me in this direction. Before I came to Chicago, I had only lived in suburbs or semi-rural areas. Now that I live in the city, I miss the open fields of my youth. The irony lies in the fact that the landscapes I paint are of rural scenes. A common scene I have painted several times is the field across from my Grandma Mary's house. It recurs often in my dreams. I have also been painting birds and clouds lately. Occasionally, I have dreams in which I am flying. I have always been a migratory spirit and I'm glad I have landed in Illinois. I am finally in the "nesting" phase of my life.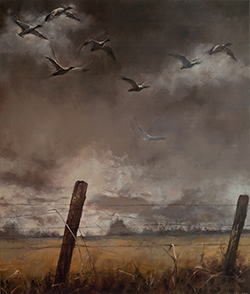 ILI: What opportunities does Illinois present to local Illinois artists?
Kaiser: There are many resources available for artists in Illinois. I have taken part in the Illinois Artisans Program and used to sell my paintings in the former shop at the Thompson Center. Also, I have been the recipient of two cultural grants to fund my practice. One was a CAAP grant in 2010 and the other was a Cultural Arts Grant from the City of Evanston in 2015. Also, I have participated in workshops and discovered exhibition opportunities at the Chicago Artists Resource. The website, www.chicagoartistsresource.org, is helpful because I have used it to find jobs, places to exhibit my work, and also studio space.
There are many different galleries in Chicago, and I have had opportunities to attend openings and get inspired by what I see. I am represented by the Michael Laconte Gallery and I have sold a great deal of work there. In summary, living in Illinois has enabled me to collaborate with other artists and enrich my practice.
ILI: What do you like about Illinois?
Kaiser: What I like most about Illinois are the beaches. In Evanston, where I live, there are several nice beaches, including one for dogs. I bring my dog there and she likes to frolic about with the other canines. What I love about Lake Michigan is that it looks like the ocean. It is so sublime to look out at the horizon line as see a large blue color field. The color of the lake changes daily, along with the sky. It reflects the sky, so sometimes it's a deep ultramarine blue, while on other days it's a turquoise color. Since I draw and paint clouds and birds, I'm always taking reference photos during my daily walks with my dog.
Also, since I'm a runner, I like to visit the various nature preserves in Illinois. There are miles of good trails for running and biking. I visit Harms Woods in Skokie most often and go running there on Sundays with my friend, Michele Martin. I see and hear numerous birds: redwing blackbirds, cardinals, woodpeckers, and even great blue herons.
Sometimes I take my students to the Chicago Botanical Garden, where we sketch plants. I'm a member at the Garden and I like it because of the diversity of species I discover there. My favorite part of it is the Japanese Garden, where the trees grow in unique shapes that extend outward instead of upward.

ILI: What is your favorite medium to work in?
Kaiser: My favorite medium is oil paint. I am primarily an oil painter because the medium enables me to glaze, which a process in which I mix linseed oil, the binder, with the paint. Although the dry pigment is already held together in the tube with linseed oil, I add more to the paint to make it transparent. Thus, the process of glazing involves adding more of the binder to the paint to create luminous veils of color. This is especially helpful when painting clouds, feathers, and flesh tones. The colors become more complex because what the viewer sees is several layers of transparent colors instead of just one flat, opaque color.
I also like to embed precious metals, such as gold, silver and copper, in my paint. I do this by using acrylic medium, which acts as an adhesive. At times I collage bits of gold leaf onto the surface before I use the oil paint. One can paint oil on top of acrylic, but not the reverse. Then, when I glaze the color on top, the glow of the metals shine through the paint.
ILI: Where can people view or purchase your work?
Kasier: My work is available for sale at the J.Petter Gallery in Saugatuck, Michigan. On one side of the gallery people can buy art, and on the other side, they can buy wine. There is a tasting area, and Juli, the owner of the gallery, is very helpful.
I also sell my work on Saatchi.com, an online platform for artists. The website is www.saatchiart.com.
Finally, sometimes people simply visit my personal website and find a painting they like. If it has been sold, I occasionally will do a commission to make something that has a similar theme or color palette. My website is www.sarah-kaiser.com.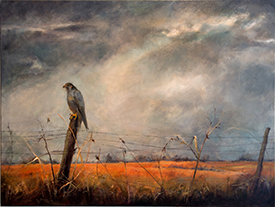 ILI: What artist inspires you and why?

An artist who I recently discovered is Jervis McEntee, a Hudson River Painter from the 1800s. His landscapes often have a melancholy and poetic mood that he creates with his color palette. According to the artist, "People say I paint the sorrowful side of nature…but this is a mistake…Nature is not sad to me but quiet, pensive, restful." I think my landscapes are similar. In the paintings, "Mary's Journey" and "Coming Home," the skies are gray but there is a light. Both fields are painted from my memory of the field across the street from my Grandma Mary's house. The falcon in "Mary's Journey" represents my Grandmother. When she passed away, I used the metaphor of a bird to signify her passage from one life to the next. In the painting, "Coming Home," I was inspired by "Wild Geese," a poem by Mary Oliver. In the poem, the geese are returning home after a long journey. The main message in the poem, as I interpret it, is that one doesn't have to be perfect, and that it's human nature to make mistakes.