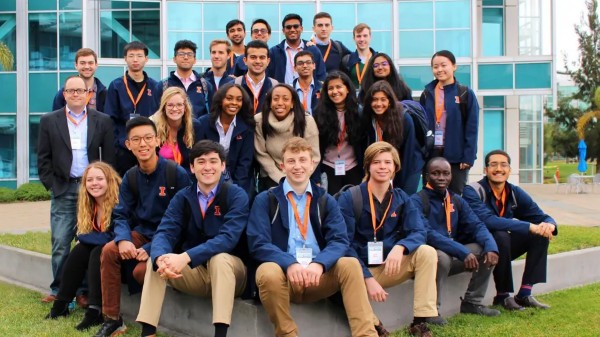 Innovators, cultivators, visionaries, and a talented student body represent the successes within the University of Illinois Urbana-Champaign's entrepreneurial climate. Alumni, graduates, and undergraduates are not only a part of world-changing programs – these entrepreneurs are leaders in their academic and professional fields.
The University of Illinois is "ranked among the top public universities for producing the most successful entrepreneurs," according to Forbes. UIUC garners a rich entrepreneurial history in which alumni have committed their ideas to the marketplace and gone on to found some of the most renowned companies to date. Large public companies like YouTube and PayPal find their roots in the halls of UIUC in which two of YouTube's founders Jawed Karim and Steven Chen earned their bachelor's degrees in computer science and two of PayPal's founders Max Levchin and Luke Nosek earned their bachelor's degrees in computer science and computer engineering respectively.
Other major globally recognized companies include the online anime streaming service Crunchyroll, founded by alumni James Lin, and Tesla that is co-founded by alumni Martin Eberhard who received the 2008 Distinguished Alumni Award and was inducted into the Hall of Fame by Engineering at Illinois.
Among such highly esteemed graduates, the university continues to advance their students beyond the classroom through the support of innovative programs such as Duality – America's first accelerator dedicated to quantum startups, as well as Chicago Quantum, The University of Chicago, Polsky Center of Entrepreneurship, Argonne National Laboratory, and P33. During a student's academic career, faculty are also committed to fleshing out students' ideas into reality by training its scientists and engineers to set their focus beyond academia and recognize the benefits their visions can grant a vibrant ever-changing society.
Read more on the current list of companies founded by the university's alumni: Illinois Startups | Illinois Entrepreneurship | U of I.
For more information on the University of Illinois Urbana-Champaign's entrepreneurial background: Why The University Of Illinois Is A Top College For Entrepreneurs (forbes.com).