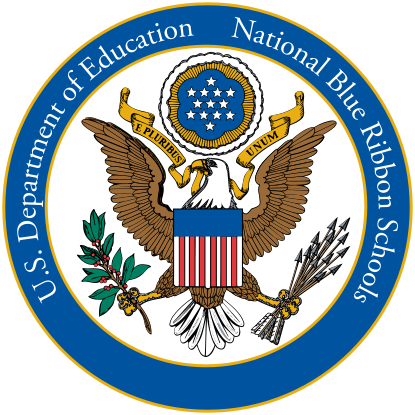 The U.S. Secretary of Education Miguel Cardona recognized 20 Illinois schools as National Blue Ribbon Schools for 2023. The National Blue Ribbon Schools Program recognizes elementary, middle, and high schools based on their overall academic excellence or the closure of achievement gaps amongst diverse groups of students demonstrating their ability for all students to achieve high levels of learning.
"The honorees for our 2023 National Blue Ribbon Schools Award have set a national example for what it means to Raise the Bar in education," said U.S. Secretary of Education Miguel Cardona. "The leaders, educators, and staff at our National Blue Ribbon Schools continually inspire me with their dedication to fostering academic excellence and building positive school cultures that support students of all backgrounds to thrive academically, socially, and emotionally."
The National Blue Ribbon Schools Program began 1982, under the second Secretary of Education, Terrel H. Bell, to highlight the best schools in the U.S. with the purpose of sharing the best practices among schools across the country. The program is supported through ongoing collaboration with the National Association of Elementary School Principals, the Association for Middle Level Education, and the National Association of Secondary School Principals.
"Here in Illinois, we know the importance of investing in education for our next generation of leaders," said Governor JB Pritzker. "Congratulations to the 20 exceptional institutions named as National Blue Ribbon Schools. As we continue our work to make Illinois the best state to raise a family, we commend the dedication of educators, administrators, parents, and students who made this achievement possible."
The 2023 Illinois National Blue Ribbon Schools are:
Barrington – Arnett C. Lines Elementary School, Barrington CUSD 220
Geneva – Geneva Community High School, Geneva CUSD 304
Hinsdale – St Isaac Jogues Elementary School, Diocese of Joliet
Kirkland – Hiawatha Elementary School, Hiawatha CUSD 426
La Grange – Pleasantdale Elementary School, Pleasantdale SD 107
Lake Forest – Rondout Elementary School, Rondout SD 72
Lebanon – Lebanon Elementary School, Lebanon CUSD #9
Lisle – Saint Joan of Arc School, Diocese of Joliet
Metropolis – Franklin Elementary School, Massac UD 1
Mt Prospect – Prospect High School, Township High SD 214
Naperville – Ellsworth Elementary School, Naperville CUSD 203
Northbrook – Glenbrook North High School, Glenbrook High SD 225
Northbrook – Northbrook Junior High School, Northbrook SD 28
Palos Hills – Oak Ridge Elementary School, North Palos SD 117
South Beloit – Prairie Hill Elementary School, Prairie Hill CCSD 133
Teutopolis – Teutopolis Junior High School, Teutopolis CUSD 50
Western Springs – Forest Hills Elementary School, Western Springs SD 101
Wheaton – Saint Francis High School, Diocese of Joliet
Wilmette – Romona Elementary School, Wilmette SD 39
Winnetka – School of Saints Faith, Hope and Charity, Archdiocese of Chicago
For more information visit 2023 National Blue Ribbon Schools