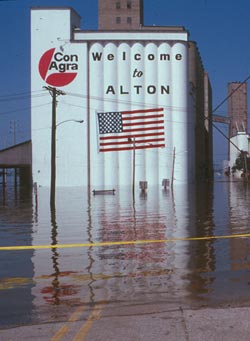 Just 25 miles north of St. Louis, Alton is small city with more than its fair share of vibrant history. Founded in 1837, Alton was the site of the final debate between Abraham Lincoln and Stephen Douglas in 1858. It was the home town of Robert Wadlow, the world's tallest man, and it is where legendary jazz musician Miles Davis was born, just to name a few facts. But what the city of Alton is famous (or perhaps infamous) for is that it's considered to be one of the most haunted towns in the United States.

There are many locations around the city associated with reports of paranormal activity, such as a school, local cemeteries, and a prison. First opened in 1833, the Alton Prison was the first Illinois State Penitentiary. It was closed in 1860 and reopened two years later as a military prison during the Civil War. The majority of the prison's population were Confederate prisoners and it is estimated that over 11,000 of them were brought to the jail in just three years.

The prison was closed and its buildings demolished in 1865 at the end of the war, and the land was later turned into a park. Many of the stones from the old prison buildings were used in the construction of other buildings in Alton, a historical fact that locals point to as a reason for many of the hauntings around town. Whether or not you believe in hauntings, the city of Alton's low cost of living and proximity to St. Louis makes it a great place to live. And with its large historical downtown area and riverfront view of the Mississippi river, it's also a great place to visit.