Published: Friday, November 18, 2022 12:25 PM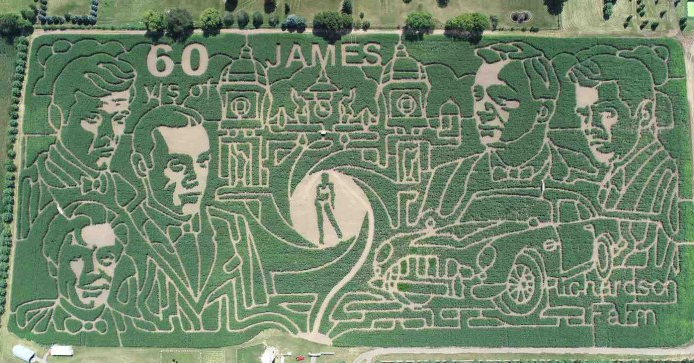 James Bond, the legendary spy, has now been immortalized in a legendary way. An extraordinarily detailed corn maze was created on a farm in Illinois to celebrate the 60th anniversary of the iconic agent's first film Dr. No. The maze features the five actors who have portrayed 007 over the years: Roger Moore, Timothy Dalton, Sean Connery, Daniel Craig and Piece Brosnan. The corn maze is located on Richardson Adventure Farm in Spring Grove. Every year the Illinois farm creates a masterful corn maze, and in 2022 they decided to celebrate James Bond.
The maze was shaken, not stirred, as it was created to also feature a Bond girl, a Monaco casino and an Aston Martin car driven by 007. The corn maze is distinguished as the world's largest corn maze, it stretches 10 miles and spans over a 28-acre area. Those who came to visit the maze needed all the skills of a great spy to work their way through it, as the maze is actually created out of 4 smaller mazes, each one having its own dedicated in and out path. The maze was created using state of the art design and planting technology. Last year the Richardson Farm depicted the famous band "The Beatles" in their corn. Every year Illinoisans wait in anticipation to see what the farmers will create next, and hopes are high for another spectacular maze in 2023.
The corn maze was open September through October of this year, and the amazing design of James Bond through the decades drew a lot of media attention to the Illinois farm. As fall season comes to a close and the holiday season is upon us, the Richardson Farm is switching gears from corn to pine. The Richardson Christmas Tree Farm will be opening the day after thanksgiving, and those who enjoyed the spy-level maze can now enjoy getting a tree with their families for the holidays.
Those who wish to visit the farm can visit their website here.