After football season comes to a close, Illinois fans will have another NFL event to look forward to.
NFL commissioner Roger Goodell and Mayor Rahm Emanuel have announced that Chicago was chosen to host the 2015 NFL draft. The draft had been held in the Radio City Music Hall in New York since 1965, but earlier this year, the league decided to award the draft to a new city. Los Angeles and Nashville were among some of the other candidate cities, but Chicago's rich history with the NFL helped it become the front runner.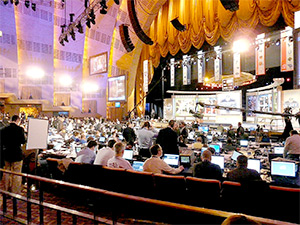 However, this isn't the first time that Chicago has hosted the NFL draft. Eight previous drafts were held in Chicago: 1938, 1942-44, 1951 and 1962-64. Venues for the previous drafts in Chicago included the Sheraton Chicago Hotel, the Blackstone Hotel, the Palmer House and the Hotel Sherman.
The draft will be held at Roosevelt University's Auditorium Theater in Chicago's South Loop over a 3 day period. Round 1 will be held on April 30, rounds 2 and 3 will take place on May 1 and rounds 4-7 will take place on May 2.
An outdoor fan festival will be held all three days in Grant Park and Congress Plaza where fans can attend autograph sessions and experience interactive exhibits.