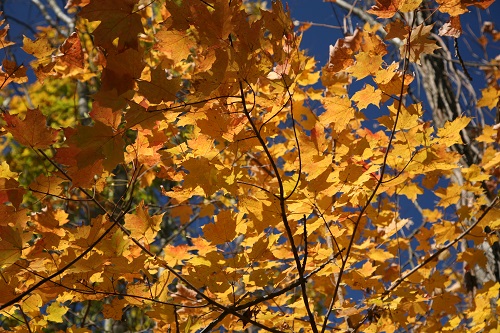 With a length of 390 miles from north to south and an ideal climate for deciduous trees, Illinois is one of the most uniquely-situated places to view fall foliage.
Because the state is so long from north to south, fall comes to Illinois several times. It first comes to the northern part of the state in mid-September and works its way gradually south as the weather cools and each region hits its "peak" fall colors at a different time. In northern Illinois, leaves have already begun to change color and will soon reach their peak, turning otherwise mundane vistas into breathtaking, picturesque landscapes.
One of the best ways to experience fall in northern Illinois is to visit the Cemetery Hill Trail at Cook County Forest Preserve's Paw Paw Woods.
Paw Paw Woods sits along the southern bank of the Des Plaines River in unincorporated Willow Springs, not far from the DuPage and Will County lines. It is adjacent to several other woods and nature preserves in the Cook County Forest Preserve District's Palos Region. One of the greatest natural attractions found in the woods of southern Cook County is the Cemetery Hill Trail.
The trail is a two-mile-long, single-track dirt loop with an elevation gain of 100 feet. It can be used for mountain biking, trail running and hiking. While the trail is open year round, there is perhaps no better time to visit than early fall. The density of the woods allows users of the trail to immerse themselves in the changing colors and the temperate fall weather makes it more pleasant than ever to spend a day exploring the forest.
The Palos Region of the Cook County Forest Preserve District is unique in that it is a peaceful, relatively untouched oasis easily accessible to and located in the most densely populated area of the state. The forest preserve is only a 30 minute drive from Chicago's city center and 1.5 miles from the Willow Springs Metra station. The entrance to the trail and Paw Paw Woods can be found at 9102 Archer Ave, Willow Springs, IL 60480.
Fall colors are expected to peak in late September or early October. There is no better time to bike, hike and run to the Palos Region of the Cook County Forest Preserve District and enjoy the spectacle.Click here to download a PDF map of the Palos Region.