Published: Friday, October 06, 2017 09:38 AM
Can you imagine Hal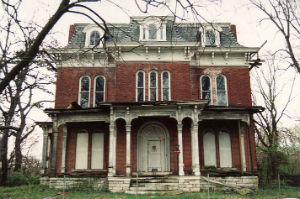 loween without haunted houses? It's a tradition and the holiday wouldn't be the same without them. There are a plethora of haunted houses to enjoy around Illinois.
Check out the House of Torment in Morton Grove for a "multi­layered psychological thriller" that has been named one of the scariest haunted houses in the United States. The attraction boasts zombies, deadly creatures and murderous insects.
Or head to southern Illinois and visit Alton, one of the most haunted small towns in America. Take a haunted ghost tour through the town, based on the best-selling book by Troy Taylor, Haunted Alton. The book includes an in-depth look at all of the locations on the tour, plus the detailed history of Alton and the surrounding region. It's a chilling look back in time at the strange tales, unsolved mysteries, and many ghosts of the Alton area.
Another great haunted house is the Scream Haunted Adventure in Decatur. This haunted house is a fundraiser for the Decatur Celebration, Inc. and is a place where all your nightmares come true. If you go to this haunted house, be prepared because you can hear screams from afar.

The idea of haunted houses began in London during the 19th century when a woman by the name of Marie Tussaud introduced the public to gruesome wax sculptures of decapitated French figures. She named her collection the "Chamber of Horrors" in 1802 and it is still the name to this day.
Thus, the hunger for horror was born. In the 20th century theaters in Paris were known for their on-stage portrayals of realistic dismemberment and an English fairground in Liphook created one of the first "ghost houses,", which was an early type of horror attraction.

In the United States, Halloween-themed haunted houses began to pop up during the Great Depression to distract young children from playing holiday tricks that usually resulted in property damage or some sort of vandalism. Haunted houses didn't become a huge cultural phenomenon until Walt Disney decided to build his Haunted Mansion in 1969. Disney's Haunted Mansion had more than 82,000 people pass through on a single day once it was opened to the public.

With the thirst for horror growing, Hollywood began producing more horror films and haunted houses were a sought-after attraction around the country. Now, in the 21st century we not only see haunted houses, but we can find a wide range of spooky events such as zombie runs and haunted escapes during the month of October and early days of November.

If you are looking for a haunted house to enjoy this Halloween season in the Chicago area, click here.
If you are from the central or southern part of the state, more haunted houses can be found here.