Published: Tuesday, October 10, 2017 01:18 PM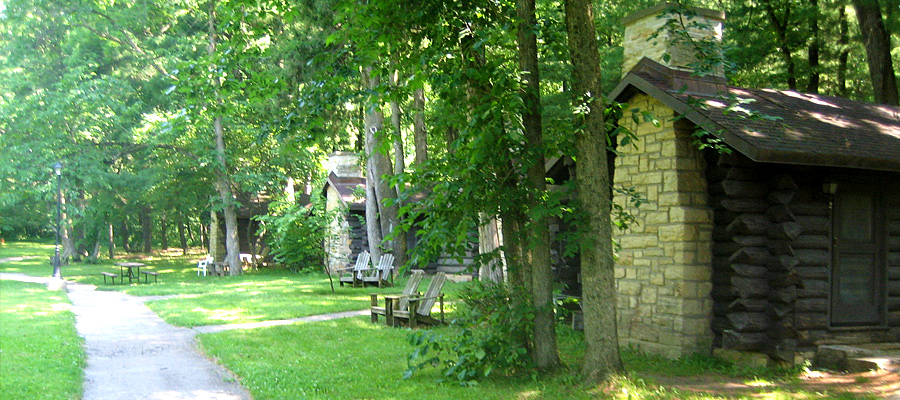 The wind is whistling through the pines. The changing of the seasons has painted the forest in blazing reds, oranges and yellows. The air is crisp and the one-room cabin at White Pines State Park, built with red cedar and Douglas fir, is the perfect retreat in the woods.
First constructed in the 1930s by the Civilian Conservation Corps, the 16 log cabins that make up the White Pine Inn have been recently renovated but still retain their rustic charm. Each cabin is equipped with a shower, a gas fireplace, a queen-sized bed and a television. For a more rugged and pared-down experience, camping is also available for $10 per night. Campsites at White Pines State Park are loaded with amenities including flush toilets, showers and electrical hookups.
Visitors to the park, which is the oldest in Ogle County and the third oldest in Illinois, have a plethora of activities to choose from. In addition to camping in cabins and tents, hiking and picnicking are other popular activities.
A 300 acre plot of land for deer hunting is located within the. Both firearm and archery deer hunting are allowed in an area that includes woods and open fields of brush. For more information, consult the hunter fact sheet.
White Pines State Park is also home to the White Pines Inn Restaurant. The restaurant is famous for its Paul Bunyan Breakfast, which is served family style. Sauk Valley Newspaper regularly awards the White Pines Inn Restaurant with its "Best Buffet" title for the Sunday morning Paul Bunyan Breakfast. The award-winning offerings include all-you-can-eat eggs, pancakes, American fries, toast, sausage and bacon. The lunch menu includes homemade soups, sandwiches and entrees such as chicken pot pie. At dinner time, steak, lake fish and other seafood items are added to the menu. Dinner at the White Pines Inn Restaurant wouldn't be complete without its famous peach cobbler and red raspberry pie for dessert.
White Pines State Park is remarkable in that it offers something for every taste and interest. It is the perfect place to enjoy a camping trip, a family outing or a business event.