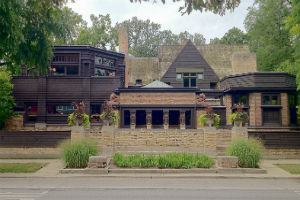 The Illinois Office of Tourism kicked off National Travel and Tourism Week by unveiling a new Frank Lloyd Wright Trail to celebrate the famed architect's history and connection to the state.
Wright was known for his uniquely American style of architecture, including several well-known buildings in Illinois. His creative period spanned over 70 years and produced designs for homes, offices, churches, schools, hotels, museums and other structures.
Two new road trip itineraries will feature buildings designed by Wright, who spent the first two decades of his career based in Chicago and Oak Park. This self-guided architectural adventure will feature 13 Wright-designed buildings open to the public throughout Illinois.
One trail goes from Chicago to Springfield, with stops in Kankakee and Dwight, allowing visitors to discover the shining examples of Wright's signature Prairie style.
Another trail takes travelers from Chicago to Rockford, with stops in Geneva, Hampshire and Belvedere, following Wright's career from his earliest designs to his biggest innovations.
Both itineraries – which can be downloaded from EnjoyIllinois.com – also suggest other activities along the way, such as Chicago's architecture cruise, the Oak Park walking tour of Wright-designed homes, and various eateries and tourist attractions.
The creation of the Frank Lloyd Wright Trail was approved by the General Assembly last month. This summer, official Frank Lloyd Wright Trail road signs will be displayed across Illinois.