Chicago's Cloud Gate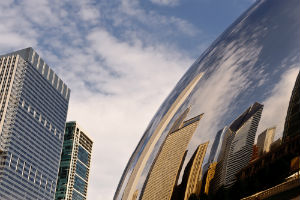 more commonly known as "The Bean" has been named among the top 10 landmarks in the country by TripAdvisor.
The travel website said it compiled the ranking using an algorithm that took into account the quantity and quality of reviews and ratings for landmarks worldwide.
First unveiled to the public on May 15, 2006, the elliptical sculpture is British artist Anish Kapoor's first public outdoor work installed in the United States.
It weighs 110 tons with a 12-foot-high arch that provides a "gate" to the concave chamber beneath the sculpture, inviting visitors to touch its mirror-like surface and see their image reflected back from a variety of perspectives. It is also forged of a seamless series of highly polished stainless steel plates, which reflect Chicago's famous skyline and the clouds above.
For years, The Bean has captured the imagination of Chicagoans and visitors and is one of the city's must-see attractions.
The Bean is located in Millennium Park, which provides hundreds of free cultural programs including concerts, exhibitions, tours and family activities throughout the year.
Visitors can experience everything from interactive public art and ice skating to a variety of dining and free classical music presentations by the Grant Park Orchestra and Chorus. Among the park's prominent features is the most sophisticated outdoor concert venue of its kind in the country.
For a list of events throughout the year, click here.