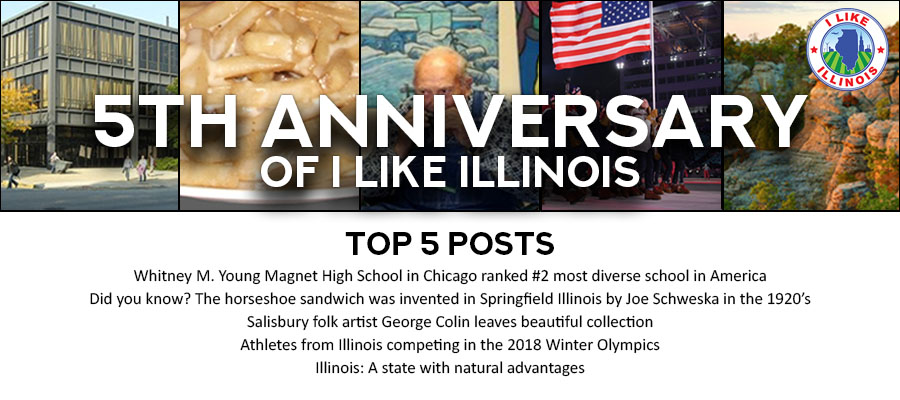 On this day in 2014, I Like Illinois began sharing positive stories about Illinois and Illinois life. For our anniversary, we wanted to focus on what you, our readers, like most about the Land of Lincoln. Here are our five top stories of the past five years:
5. "Illinois: A state with natural advantages." This 2015 article is an ode to the resources that Illinois land offers its residents. Transportation routes crisscross Illinois due to its access to waterways and central location among the continental US states, but its rich soil and lush forests make it a lovely place for settling down, too.
4. "Athletes from Illinois competing in the 2018 Winter Olympics." Illinois brought its game to the 2018 Winter Olympics in PyeongChang, South Korea, in which twelve Illinois athletes competed. Kendall Coyne Schofield, a member of the US women's national ice hockey team, ended up bringing home a gold medal!
3. "Salisbury folk artist George Colin leaves beautiful collection." News of artist Adolphe George Colin's death in 2014 struck a chord with readers. Colin grew up in Springfield and began selling his art locally; since then, his work—which often features Illinois farm scenes, rendered in pastel on paper—has been displayed at the Smithsonian and the American Folk Art Museum in New York City.
2. "Did you know? The horseshoe sandwich was invented in Springfield, Illinois by Joe Schweska in the 1920s." A slice of toast, a mountain of French fries and a burger, all smothered in cheese sauce—can you blame Illinoisans for being proud of the horseshoe? This local treasure was invented nearly a century ago and first served at the Leland Hotel in Springfield. These days, eateries all over the country have put their own twist on the dish, but if you ask us, a horseshoe tastes best right here in Illinois.
1. "Whitney M. Young Magnet High School in Chicago ranked #2 most diverse school in America." Whitney M. Young Magnet High School in Chicago has more to celebrate than a celebrity alum—in 2015, Niche found that it was the second most diverse high school in the nation. Considering the school's impressive graduation rates and stellar academic performance, it makes sense that Whitney M. Young Magnet High School would be the subject of our #1 most popular story of all time.
Here's to another five years of good news about Illinois.