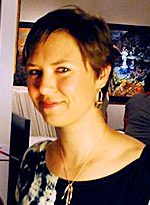 Our Illinois Artist of the Month is Anastasia Mak, a native of Ukraine who made our state her home and the subject of many of her paintings. She is inspired by Illinois artists, subjects, places and the state's friendly people. Read on to learn more about Anastasia and see more of her artwork on her website.
ILI: How long have you been an artist or when did you start? Was there a single incident or moment when you realized this was your passion and if so, tell us about it?
Mak: I have been drawing/painting ever since I was able to handle pens, brushes and markers — which, I am told, started at around 2 years of age. My mother was very happy because I have always been able to occupy myself with art for hours, and she didn't have to constantly entertain me. Also, ever since I remember, I have wanted to be a professional artist. When I was 11 though, my dad broke it to me that it would probably not be feasible to earn a decent living in the arts, and when I go to college, I should study something "more useful." I remember that moment so clearly — we were sitting on a bench in New York's Central Park, having that conversation, and I was thinking: "Now what? My life has no meaning!" — at 11! So, well, in college I studied business. And then became an artist.