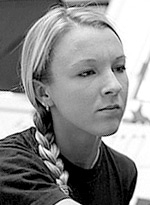 Balancing society's need and desire for man-made products with limited natural resources is the regular theme Illinois artist Hannah K. Freeman employs in her work. Freeman, born in Jacksonville, makes time for creating oil paintings while working as an instructor in graphic design at Eastern Illinois University. She disputes any notion that opportunities for artists exist primarily in cities, finding calls for artwork for exhibitions come from Illinois towns of all sizes, statewide.
ILI: How long have you been an artist or when did you start? Was there a single incident or moment when you realized this was your passion and if so, tell us about it?
FREEMAN: Without a doubt, I was born an artist. While other children were into video games and television shows, I spent my childhood drawing on everything in sight – walls, Kleenex boxes, couches; nothing was sacred. I would spend hours locked in my room handcrafting cards for friends and family and posters and signs for holidays and special events. I was the kid who carefully crafted a handmade valentine for each classmate and loved every minute.