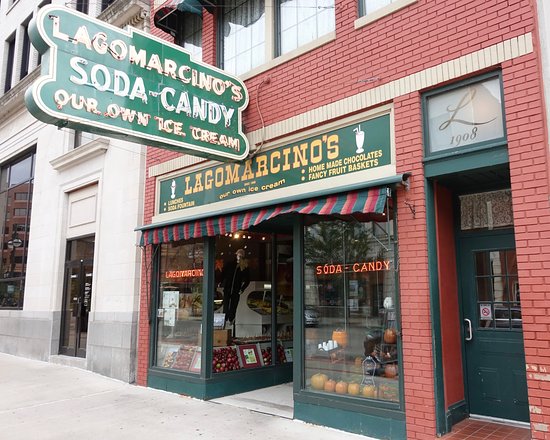 In the northwestern part of Illinois known as the Quad Cities lies a little bit of sweet history – Lagomarcino's, one of the last soda-candy confectioneries in the nation. Since 1908, Lagomarcino's has been a staple to Moline. From their own homemade ice cream to the famous soda fountain follies, it's no wonder this place is so well loved that it opened their second location right across the river in Davenport, Iowa.
For more than 110 years, the confectionery has been making chocolates, candy, and homemade ice cream. Currently, the store has been passed down four generations within the Lagomarcino family and is still using the same original copper kettle kitchen at the original Moline location.
The story begins with Angelo Lagomarcino emigrating from Italy in the late 1800s. After getting married, he worked in Burlington, Iowa, with his brother Carl, and in 1908 Angelo decided Moline was the best location to have his own business. He created a wide array of fine chocolates, sundaes, and malts that are still on the menu to this day.
The family run store has also won a number of awards, including the prestigious James Beard Foundation America's Classic Award in 2006. This award is given out to only a handful of owned restaurants that have a "timeless appeal and are beloved regionally for quality food that reflects the character of its community." Since the creation of the institution, they have gone on to serve more than just sweet treats and have a whole menu of classic American food.
According to their website, they plan to keep going on for at least another 100 years or more. A little piece of Americana that is still prevalent to this day is a feat on its own. Every major holiday has specialty themed sweets and items crafted upon the day of celebration – from candy apples to deliciously made Christmas tree chocolates, this spot is definitely one to check out in Illinois!