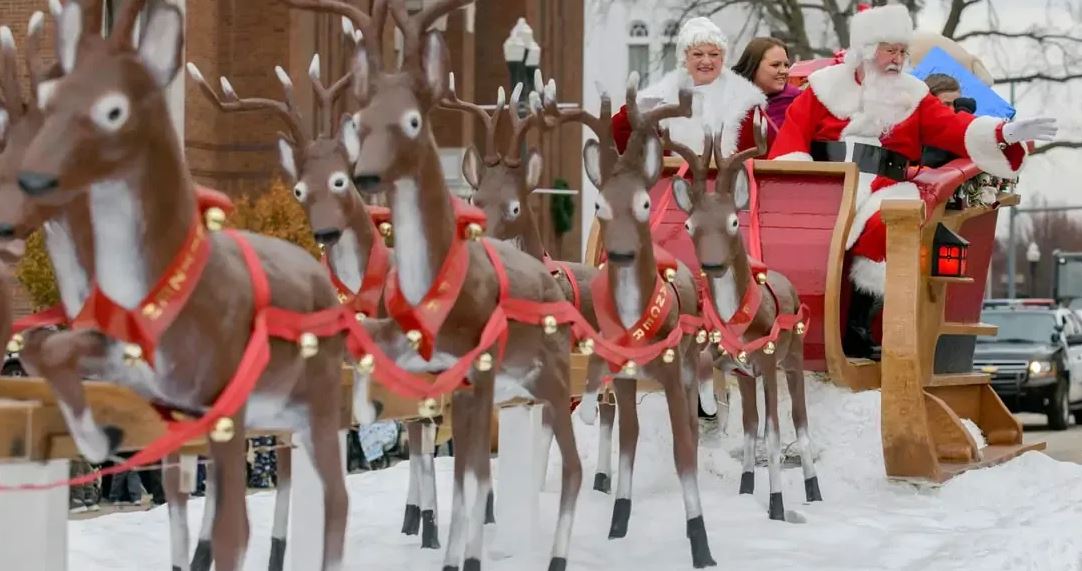 Ho ho ho! Santa's appearance at parades is always a site to see, especially to all the children excited to catch a glimpse of him. Did you know that Peoria has the longest running Santa parade in North America? For a record 135 years, the parade kicks off the day after Thanksgiving to officially start the winter holiday season. Starting in 1887, the original parade was in celebration of a new bridge opening, thus was actually in the river. The year after is what began the on-land parade and it has been going strong since.
There is roughly 85 or more contestants in the parade that compete for the best novelty unit, best overall unit, best new entry, best commercial float entry, best non-profit float entry, and best religious float entry – this year's theme being "Winter Wonderland." A common tradition that the parade has followed is being right after Thanksgiving to kick off the upcoming winter holiday season with an average of 50,000 parade watchers attending.
The first parade in 1887 originally had boats and derricks sailing down the river as a celebration of the beginning of the new Upper Free bridge construction. However, the year after, the city decided to hold a parade through town, celebrating the completion of the bridge. The following year, Frederick Block of the Schipper and Block Department Store (later renamed Block & Kuhl's) sponsored a parade that followed the same route and featured Santa Claus. The parade was then first televised in 1958.This concept created the department-store sponsored parades that are currently popular at every Thanksgiving and Christmas in America. Talk about iconic! In addition to the parade attractions, there was also fireworks, occasionally a circus performance as well as the adored live reindeer exhibit.
During the first 72 years of the parade, its sponsorship by the Schipper and Block Department Store of Peoria had grown the event to 3,000 parade participants and included a 43-pipe calliope, fireworks and floats constructed by store employees and volunteers. The parade during this time ended with Santa climbing a fire escape ladder and disappearing through a window into the store's toy department. Downtown Peoria truly is a site to see around the holidays, and having the longest-ran Santa parade makes it the perfect spot to visit to get into the festive spirit.