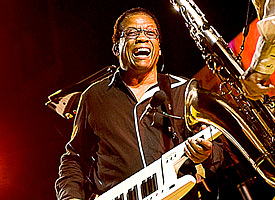 Herbie Hancock was born in in Chicago in 1940 and showed promise on the piano at an early age. By age 11, his classical music training had led him to perform a Mozart piano concerto with the Chicago Symphony Orchestra.
Eventually, Hancock moved to New York after leaving college, quickly making a name for himself. In 1962, he recorded his first solo record, "Takin' Off," which is notable for the tune "Watermelon Man." The record also put him on the radar of fellow Illinoisan Miles Davis, who recruited Hancock for the famed trumpeter's so-called "Second Great Quartet."
Davis exerted a profound influence on Hancock as a composer and bandleader, and following Davis' foray into electric instrumentation, Hancock formed Headhunters. Hancock used electric pianos and early synthesizers with Headhunters, and that group pioneered the jazz-funk genre in the early 1970s, with such songs as "Chameleon" and a reworked version of "Watermelon Man." He continued pushing musical boundaries during the next several years, and in the early 1980s, he scored a huge hit with "Rockit,"which was heavily influenced by the burgeoning hip-hop/breakdance scene.
Today, Hancock is still an active performer, performing with artists such as, The Roots, Flying Lotus and Kanye West.
Learn more:
Read his biography from Blue Note Records, his first record label.
Hancock has an extensive discography of more than 200 releases.