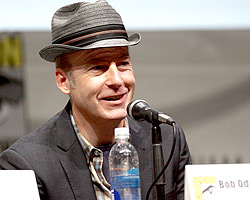 Bob Odenkirk, who played the quirky but knowledgeable attorney Saul Goodman from Breaking Bad, was born in Naperville on October 22, 1962.
Odenkirk is the second of seven children, and spent much of his childhood writing comedy in his spare time. After graduating from Naperville North High School, he enrolled at Southern Illinois University where he worked for the school's radio station. He eventually moved to Chicago and joined the improv theater Second City before landing a writing job with Saturday Night Live. Odenkirk won an Emmy Award during his four years of writing for SNL, and left the show in 1991. Following his departure, he began to establish himself in the film industry, appearing and writing for The Ben Stiller Show, Get a Life, The Larry Sanders Show, Late Night With Conan O'Brien, Mr. Show with Bob and David, Curb your Enthusiasm, How I Met Your Mother and Arrested Development.
After being cast as Saul Goodman by Breaking Bad creator Vince Gilligan, Odenkirk cemented himself in the forefront of mainstream television. He consistently appeared on all five seasons of the show alongside Bryan Cranston and Aaron Paul. Breaking Bad received 108 industry awards and 260 nominations in total.
After the show concluded, the network announced that a spinoff program would be created centered around Odenkirk's character titled Better Call Saul. It will begin airing in 2015. Bob Odenkirk currently lives in Los Angeles with his wife Naomi and their two children.
Learn more:
Private Newspaper, the official website of Bob Odenkirk
Bob Odenkirk's IMDB profile
Follow Bob Odenkirk on Twitter