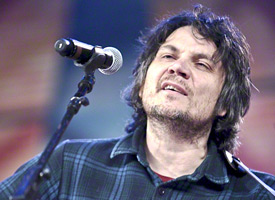 Born in Belleville in 1967, while in high school, Mr. Tweedy formed a close bond with classmate Jay Farrar. The two eventually formed a band called The Primatives. That band would go on to become Uncle Tupelo and according to music critics almost single-handedly created the "alt-country" genre, which combines the plaintive sounds of early country music with the raucous electric guitar and drum sounds of punk. Mr. Tweedy briefly attended Southern Illinois University – Edwardsville before dropping out to focus on music full-time.
After Uncle Tupelo's acrimonious disbanding, Mr. Tweedy founded Wilco and in the process, moved back to Illinois from St. Louis. Settling in Chicago, Wilco became one of the torchbearers for alternative rock music in the late 20th and early 21st centuries. Dropped from their label Reprise for delivering what the label deemed to be "uncommercial" music, the band bought the master tapes and was signed by another label releasing 2001's "Yankee Hotel Foxtrot" to massive critical and commercial success. 2005's follow-up "A Ghost is Born" earned the band two Grammy awards.
Most recently, Mr. Tweedy has begun playing shows with his son Spencer under the band name Tweedy.
Learn more:
Jeff Tweedy biography
Wilco homepage
Tweedy - NPR Tiny Desk Concert