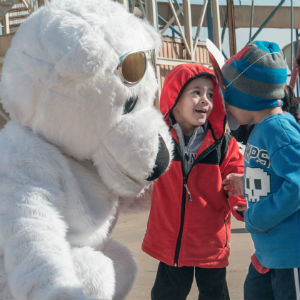 When the weather gets cold we tend to find ourselves spending more time indoors, snuggled up with a hot beverage. Although that sounds like bliss, getting out and enjoying events that only happen during the winter season can be just as fun, and support a good cause!
If you have never experienced ice sculptures or ice sculpting competitions, Rockford holds the High School and State Competitions. You can walk through and watch the ice sculptors, or you can drive through and view from the warmth of your car. The competitions are held at Sinnissippi Park. Admission is free and you can see ice sculptors creating their master pieces from sunrise until about 10:30 p.m. This is an activity the entire family can enjoy.
The High School Competition is held Jan. 18-20 and the State Championship will be held Jan. 17-20. For more information about this event, click here.
Another fun winter activity that you may have heard of is the Polar Plunge. This event supports the Special Olympics in Illinois by raising money for the events and programming the organization provides for the 42,000 athletes across the state. Participants raise a minimum of $100 in exchange for jumping into cold waters in the middle of winter. All the proceeds benefit the Special Olympic Athletes.