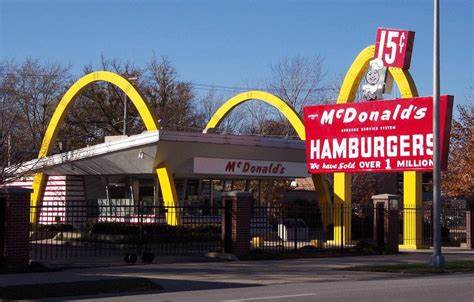 Nov. 16 is National Fast Food Day. Did you know that Illinois has a rich history in the founding and incorporation of several fast food restaurants?
Ray Kroc, one of the founders of McDonald's, opened his first restaurant in Des Plaines in April 1955. Although this is actually the ninth McDonald's restaurant, the company refers to this as The Original McDonald's. This location marked the beginning of Kroc's involvement with the company, as he went on to become the CEO of McDonald's. The headquarters of McDonald's is located in Chicago.
Sandy's was an American fast food chain that began in Kewanee in 1956 by founders Gus "Brick" Lundberg, Robert C. Wenger, Paul White and W.K. Davidson. The company was taken over by Hardee's in the 1970s.
Sherb Noble opened the very first Dairy Queen in Joliet in 1940. The formula for soft-serve ice cream was first developed in 1938 by J.F. McCullough and his son Alex. They convinced their friend Sherb Noble to offer the product in his ice cream store in Kankakee, and on the first day of sales Noble sold more than 1,600 servings of ice cream. Noble and the McCulloughs then opened up the Joliet Dairy Queen.
Consider stopping for some fast food as you celebrate National Fast Food Day this week!