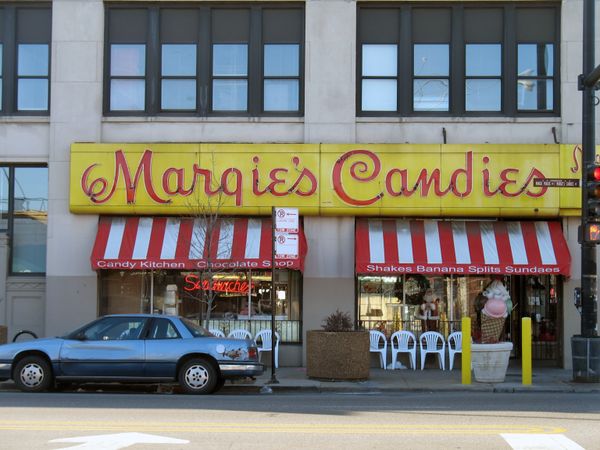 Chicago has been known as the candy capital of the world for over 100 years. In addition to local confectionaries, like Margie's Candies pictured here, many name-brand candies that you know and love got their start here.

Lemonheads were invented by the Ferrara Pan Candy Company in the 1960s. Salvatore Ferrera immigrated to Chicago at the turn of the 20th century to set up a confectionary shop. Still in operation today, the Ferrera Candy Company's headquarters are in Chicago and a candy store in Forest Park sells the sour treats.

Mars Inc. — which makes Snickers and M&Ms — operates multiple facilities in Chicago and surrounding neighborhoods. The company relocated from Minneapolis to Chicago in 1929 and opened a plant that still exists today. Forrest Mars Sr., the son of the founder of Mars Company, introduced one of the company's most popular candies in 1930 – the Snickers bar, named after the Mars family's favorite horse. The company later invented M&Ms and started production for them in 1941.

The name Wrigley is synonymous with Chicago for many people thanks to Wrigley Field, home of the Chicago Cubs. What also may come to mind is Wrigley Gum, which is made in Chicago. The company was founded in 1891 by William Wrigley, Jr. In addition to gum, the company also sells mints and candies.

Tootsie Rolls are also made in Chicago. Leo Hirschfield founded the company, Tootsie Roll Industries, and began production on the candy in 1907.

The next time you unwrap a Snickers or a Tootsie Roll, or pop a Lemonhead or M&M in your mouth, think about how they're made right here in Illinois!