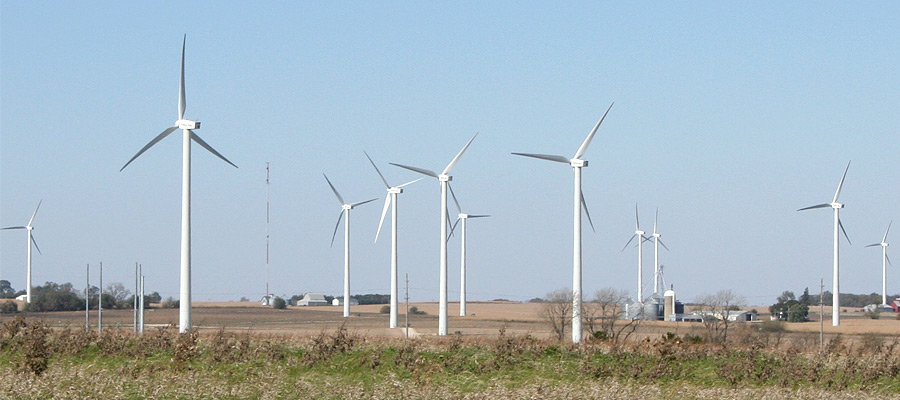 While Chicago is known as the Windy City, the entire state of Illinois is harnessing the natural power of the wind to produce clean energy and reduce pollution. The first wind farm in Illinois, Mendota Hills near Paw Paw, was activated in 2003. In the decade since this first installation, wind energy capacity in Illinois showed extraordinary growth. Illinois law pushed this wind innovation. By 2025, under the Illinois Renewable Portfolio Standard, 25 percent of Illinois electricity must come from renewable sources. In 2013, wind energy accounted for 4.7 percent of all electric generation in Illinois, enough energy to power the equivalent of 880,000 homes.
At the end of 2012, Illinois ranked 4th among states in installed wind capacity and total number of installed turbines. Illinois has 23 wind farms that exceed 50 megawatts of wind-energy generating capacity. These large scale projects are located throughout northern and Central Illinois. The largest wind farms are Twin Groves I and II in McLean County, generating a combined 396 MW and the Streator Cayuga Ridge South Wind Farm in Livingston County, generating 300 MW. Wind energy supports between 3,000 and 4,000 jobs in Illinois and provides income to landowners who lease their property to wind farm developers.
Recently, IKEA and Microsoft announced projects in Illinois to help their companies limit their carbon footprints. IKEA announced a 98 MW wind farm in Hoopeston (Vermilion County). This farm is expected to generate more electricity than IKEA uses in all their US stores. Microsoft will buy the entire output of the Pilot Hill Wind Project, a 175 MW farm on the border of Iroquois and Kankakee counties. This purchase will offset all of the electricity used by Microsoft's Chicago data center. Small businesses are also taking advantage of Illinois wind resources. The Great Escape, a restaurant in Schiller Park, built the first wind turbine in Cook County to supply power to the restaurant.
Illinois is already a national leader in wind energy, and use of this renewable energy source should continue to grow in years to come.