Published: Tuesday, August 18, 2015 01:51 PM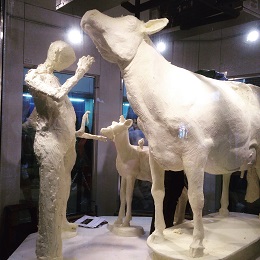 The Illinois State Fair Butter Cow has long been a celebrated fair tradition. For over 90 years, the fair has featured this staple item. The butter cow uses 500 pounds of unsalted butter and can take up to 120 hours of work.
For the last 20 years, Sharon BuMann has been the artist behind the sculpture. This year, however, will be her last. The sculptor's farewell piece features a grandfather showing his granddaughter about life on the farm alongside the main attraction, the cow. The inspiration for BuMann's art comes from her family farm.