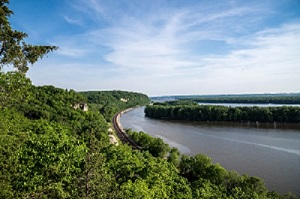 Located in Carroll County alongside the Mississippi River, Mississippi Palisades State Park is an excellent location for outdoor activities during any month of the year, even the winter months.
It is a little known fact that February is an especially good time of year for bird watching in Illinois. Mississippi Palisades State Park is home to about 200 different species of birds. Species include golden eagles, red-tailed hawks and purple finches. In recent years, the Bald Eagle population of Carroll County has climbed, making Mississippi Palisades State Park an ideal place to spot the majestic birds during January and February. The park is also a destination for other popular winter activities such as cross country skiing, sledding and ice fishing.
During the warmer months, Mississippi Palisades State Park attracts visitors with fifteen miles of hiking trails that follow the same paths that have been used for centuries to traverse the steep cliffs that line the river. The park is also known for its first-rate picnic and camping facilities, open May through October, which were constructed with great care by the Civilian Conservation Corps during the 1930s.
Due to natural erosion along the Mississippi River, there are many interesting geological features to explore along the palisades. These formations are visible from the river, where boating and canoeing are popular. Some rock formations along the palisades have been designated as national landmarks by the U.S. Interior Department.
During the fall and spring, Mississippi Palisades State Park is a destination for hunters. The wild turkey archery season in spring and the three-day firearm deer season in November attract hunters to this striking plot of land along the river.
For birding, hunting, fishing, hiking, boating and much more, the natural beauty and diverse, local wildlife of Mississippi Palisades State Park never disappoint.