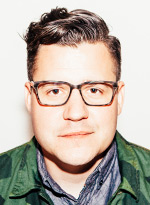 Matthew Hoffman is a Chicago-based artist and designer whose public works have been exhibited internationally. Hoffman has been featured in a segment on the Oprah Network and his ideas and work have been included in Good, the New York Times Magazine and Ready Made. He has also been published in books.
Hoffman is the custodian of You Are Beautiful, a project to better the world in little ways. The message has reached every corner of the globe, with over 2 million stickers shared. The hope is for us to share uplifting thoughts with each other.
Hoffman was recently recognized in the New City's Design Top 50: Who Shapes Chicago 2014 (March 2014), and was awarded Best Established Artist in the Chicago Reader's public poll (June 2014). For more information on Hoffman and his work, please continue reading.