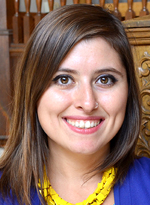 Hale Ekinci is a Chicago-based Turkish artist focusing on narrative and intercultural connections. She completed her MFA in Interdisciplinary Art and Media at Columbia College Chicago and is currently teaching at North Central College.
Her work consists of mixed media, installations, collages and illustrations to touch on social issues, traditions and political unrest. For example, in her installation Let's Resist she uses photo, video and interactive yarn to "commemorate non-violent resisters and spread their individual stories," in an attempt to abstractly document the Gezi Park Protests in Istanbul.
Her work provides a platform for people of all kinds to contemplate cultural customs, current issues, transmuted memories, idioms and translations that make up our world.