Published: Monday, April 30, 2018 08:30 AM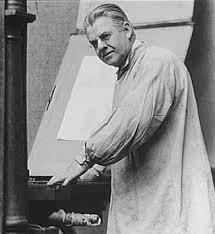 Frederic W. Goudy (1865-1947) was an American printer and typographer from Bloomington who designed more than 100 typefaces.
Goudy was a bookkeeper and a self-taught printer and typographer. He designed numerous fonts inspired by blackletter medieval manuscripts, illuminated manuscripts, and Roman square capitals carved into stone. His taste matched the trends of the time period, and his mechanical, geometric fonts proved to have long-lasting appeal, becoming especially popular for use in the body text of books.