Published: Wednesday, December 14, 2022 09:49 AM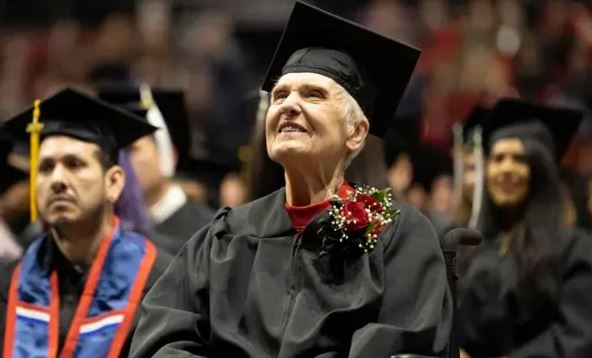 Granny got the degree! Last Sunday a new graduate walked across the stage to receive their diploma that they had waited since 1951 to achieve. This time, however, the graduate happened to be the oldest undergrad recipient in Northern Illinois University's history – 90 years old. After waiting almost seven decades, Joyce DeFauw of Geneseo received her bachelors of general studies. DeFauw had originally pursued a teaching degree and then home economics. However, after being a few semesters away from graduation, she met her husband and had nine children throughout the years.
After nine children, including two sets of twins, she had her hands full and decided it would be best to put a hold on her degree. It wasn't until 2019 that she decided to go back to school to finish the degree she had pursued back in 1951. Due to the pandemic, DeFauw took courses online in order to accelerate the process, using a gifted computer – the first computer she ever owned. The pandemic gave a lot of time for people to consider their education goals, and for DeFauw, she felt it was her time to give it another go.
It was definitely a change for her, but she told a local news station, WREX, that it wasn't something that she had always planned to finish. DeFauw is one of the few people in their nineties in history to decide to go back and pursue education.
DeFauw always valued education and wanted to remind others that it's important to never give up on your dream, even if you get sidetracked. She is a reminder that anything is possible if you put your mind to it! The grandmother of 17 and great grandmother of 24 said it was ultimately her family that encouraged her to return to NIU, known then at her time as Northern Illinois State Teachers College. As she put it, "Don't give up. Even if you do quit, go back. Just hang in there. Keep learning. Keep giving thanks. It's there for you. Just go for it."